07.04.2020 - We are still here for you. Standard delivery currently takes about about 5 to 7 working days. More
Eureka 11.3 oz Summer Derby
Eureka 11.3 oz Summer Derby
Original Bufflox are made in Portugal.
Probably your lightest and airiest summer boot.
11.3 ounces. Perforated leather. By Eureka.
The sole is responsible for its low weight. That's because the sole is made of a special foam with many enclosed air pockets instead of conventional solid rubber. Yet it has the same good grip, and is just as flexible and hardwearing, except it weighs a lot less. Leather uppers and lining have airy perforations so that your foot can breathe. Which is also a factor for the low weight.
Original Bufflox are made in Portugal.
The derby is your perfect companion on travel, even barefoot. The indigo blue is a versatile match for jeans, beige and blue chinos, and grey or dark blue cloth trousers.

Uppers and lining: Leather. Insole with leather inner sole. Rubber outsole. Colour: Indigo Blue.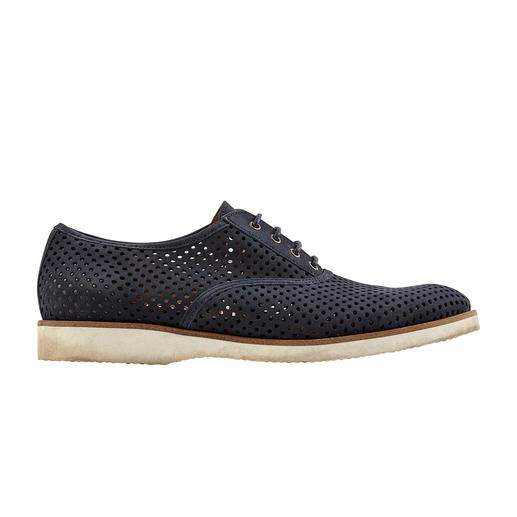 Be the first to review this product