Budapest Shoes
The Budapest Shoe: A masterpiece of the Hungarian shoemaker´s craft.
Hand-made with care in Hungary.
Good shoes need time.
The Budapest Shoe: A masterpiece of the Hungarian shoemaker´s craft.
Hand sewn in soft calfskin. By Heinrich Dinkelacker.
Poor quality shoes not only ruin your whole appearance, but your feet as well. These shoes, however, are the classic complement to your business suit – and a lifetime investment.
Hand-made with care in Hungary.
These genuine hand-made shoes by Heinrich Dinkelacker, one of the last traditional shoe manufacturers, are made from the finest calf leather. The uppers are nailed by hand to the insole using a last. Leather welt, insole and leather upper are hand-stitched. Before applying the insole, a layer of cork is attached to insulate the foot against cold and provide cushioning for comfort when walking. The comfortable footbed guarantees a safe grip and good posture (so there is still a spring in your step, even after rushing from one appointment to the next). The insole and leather welt are stitched together by hand, after which an additional leather sole is applied between the insole and the outer sole and hand-stitched to the welt. This extra leather sole makes the shoe more robust, comfortable and durable. The final outer sole is glued on and additionally secured with brass tacks which are visible from beneath, reducing wear on the sole.
Good shoes need time.
As is customary with good shoes, these classics will need a little time before they are worn in. But then they will be supremely comfortable. After wearing them, rest them for 24 hours on good shoe trees, so they recover completely and keep their shape for years to come. Uppers: Calf leather. Lining: Leather. Triple leather sole. Made in Hungary. A lifetime investment.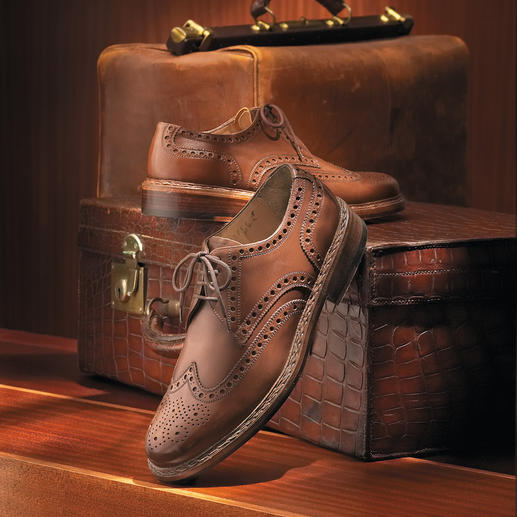 Be the first to review this product