Goodbye but not Farewell ...
As a result of the Brexit, Pro-Idee is temporarily closing its UK online shop (www.proidee.co.uk) until further notice. We apologise for the inconvenience. Everything you might want to know about the situation is to be found in the FAQs below. It will surely help you navigate through this change and answer the most frequent questions you might ask yourself regarding ordering, shipping, delivering and many other areas which are impacted by the closing of our online shop. As we remain committed to curating a unique selection of high quality products, we invite you to continue shopping in our German, French, Dutch, Austrian or Swiss online shop if you wish to have your order delivered to an address outside the UK. We thank you for the continuous support throughout the years and we hope to be able to reopen our UK online shop in the near future.
The BDO Shirt
Meet a good old friend. And forget that shirts always need ironing.
The BDO Shirt
Meet a good old friend. And forget that shirts always need ironing.
Meet a good old friend. And forget that shirts always need ironing.
This shirt has the classic, natural look of cotton. Pure and simple, it gives you the feeling of having a very good friend nearby. The strong yet soft fabric is increadibly hardwearing and very easy to care for. It looks typically casual worn unironed right off the washing line. If you prefer a more groomed look, a light once-over with the iron will do.
Fine airy Oxford fabric:
The material is woven in a basket weave making it airy and allowing your skin to breathe. It's also responsible for the variations in the surface structure. The patterned shirts are the result of an elaborate colour weave. This keeps the patterns' colours fresh even after countless washes – unlike those that have simply been printed on. The shirts look great with casual suits as well as with jeans or cargo pants. Far more versatile than jean shirts.
Best workmanship:
The seams have particularly fine, dense stitching – making them extremely long-lasting. The neat felled inner seams will not unravel or fray over time. With generous button-down collar and patch breast pocket. The extremely long shirt will stay tucked in. Neatly tailored cuffs with button sleeve slit.

Comfortable cut with wide back pleat. Length in collar size 15.75″: 81cm (32″), sleeve length: 63.5cm (24.8″). 100% cotton. Machine washable. Exclusive to Fashion Classics.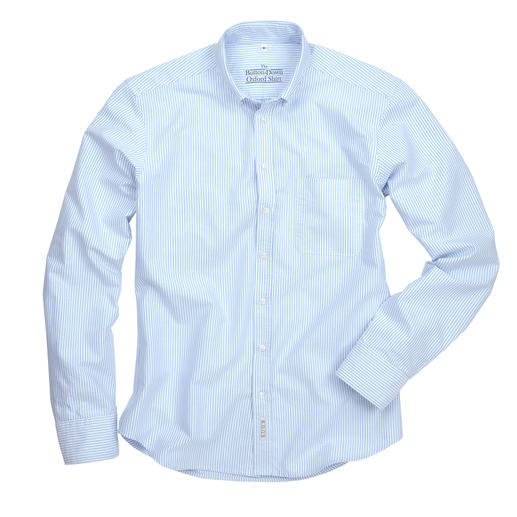 Be the first to review this product