Easy-care and ideal for travelling.
Easy-care and ideal for travelling.
You'll love this "denim" shirt both on hot and cold days.
Much softer than denim. Much more casual than a conventional shirt.
This shirt, made from Tencel® denim, is breathable, pleasantly cool when it's hot and warm in the cold. Moreover, it withstands crushing without creasing. The faded look, especially at the seams and edges, give the shirt a nice washed-out effect. And when washing, the shirt's fabric behaves like typical denim – a bit lighter and a bit different after each wash.
Easy-care and ideal for travelling.
The superbly soft woven material is made of Tencel® (Lyocell). This ingenious material combines the advantages of both natural and synthetic fibres. Casually styled with a sporty button-down collar, you can wear the shirt with any trousers in natural shades, as well as with chinos and jeans. Or buttoned as an airy jacket, it can also be worn comfortably un-tucked with trousers or over bermuda shorts in summer.

Regular fit. Length in collar size 16": 81cm (31.9"), sleeve length: 64.5cm (25.4"). Made of 100% Lyocell. Machine washable. Easy-iron. Exclusive to ­Fashion ­Classics.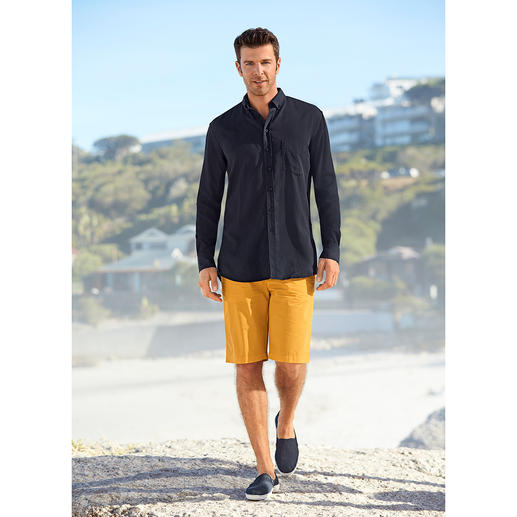 These on-trend pieces go well with 'Tencel® Denim Shirt':
Be the first to review this product