A "must" for Hollington – 2 pockets!
A "must" for Hollington – 2 pockets!
For most manufacturers stand-up collars are a passing fad. Patric Hollington, on the other hand, has been a devotee of the stand-up collar – the only type of shirt collar he makes – for over 45 years. He named it the Nehru collar – as a tribute to Jawaharlal Nehru, the first Prime Minister of modern-day India and probably one of the best-dressed politicians of his time, whose particular fondness for stand-up collars was well known.
A "must" for Hollington – 2 pockets!
A self-confessed fan of pockets, Hollington has incorporated two practical breast pockets in this shirt. The pure fine linen of this shirt makes it particularly nice to wear on hot summer days. In bright white or with a brown and white Vichy check. You can casually combine it with linen, denim, canvas and chinos.

Casual, straight cut. Length in collar size 16″/16.5": 75.5cm (29.7"). Sleeve length: 65cm (25.6"). 100% linen. Machine wash.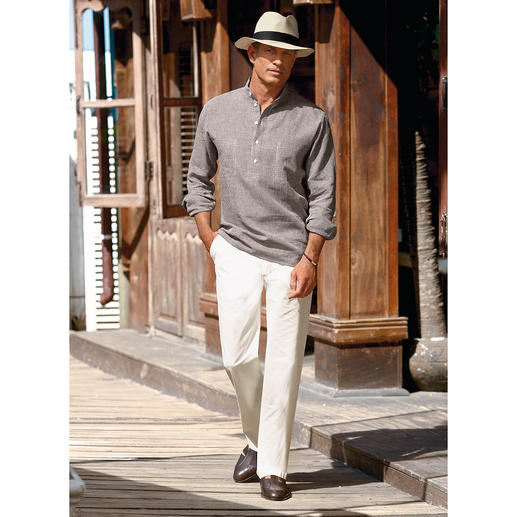 These on-trend pieces go well with 'Nehru Shirt, Linen':
By Aidan C. U. P. on 29.04.2019
The Linen Nehru Shirt
The Linen Nehru Shirt is good but could be so much better. Above all if it was available in 4XL for those (such as me) whose necks are even bigger than 19.5 inch. I have a 3XL which fits my torso (more or less) but can't be closed at the neck. Clearly I need to lose weight (not that I want Pro Idee to remind me of this) but I am where I am and no doubt not the only one. If you happen to be of lighter build then I would give this four stars but not five because I dislike the inelegance of the pockets. As pockets go they are really not in the most useful location. Useable, perhaps, for a handkerchief if you don't have a jacket or a pen (which would inevitably leak on the shirt) a phone does fit so good for recording your enemies, but liable to fall out into the loo when you bend forward over it. Perhaps the pockets are survivable but please lets have a slightly wider range of sizes.