Only very few dotty fabrics are this extraordinarily three-dimensional.
Elaborately made following the shearing process. From Italian shirt specialist Ingram.
Even actual embroidered polka dots are a rarity. These vibrant dots made of small tufted bundles are even rarer, because they are extremely complex to produce: The special shearing process involves first embroidering a small multi-threaded loop for each dot which is fixed firmly and then carefully cut open.
Elegant, contemporary denim look.
Thanks to the almost unicoloured design in indigo with slightly darker blue and burgundy coloured dots, the shirt goes with a modern business suit just as well as a casual denim outfit.
By Ingram, Italian shirt tradition since 1949.
Button-down collar. Single button, vented cuffs. Rounded hem.

Slightly tailored. Length in collar size 16": 78cm (30.7"). Sleeve length: 65.5cm (25.8"). Colour: Indigo/blue/burgundy. 100% cotton. Machine washable.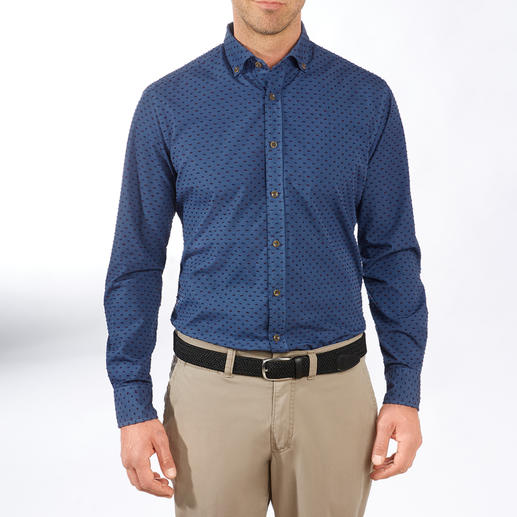 Be the first to review this product