This denim shirt is also suitable for winter.
Made of soft flannel. And so warm that you can wear it as an overshirt.
Shoulder seam, two large breast pockets and the distinctive indigo blue: This denim shirt has everything a trendy classic needs. And even more: Because unlike most denim shirts, it is not made of denim, but of warm flannel.
A fabric that can be worn in various ways.
The thick and very soft flannel can also be worn for months in spring and autumn without a jacket. When worn over another shirt, it's also ideal for the currently trendy, casual overshirt look. The press studs are "gunmetal grey" and therefore much smarter than conventional shiny silver-coloured buttons. Button placket with seven press studs. Sleeves with two press studs each. Two patch chest pockets, also with press studs.

Slim fit. Length in collar size 16": 75cm (29.5"). Sleeve length: 65cm (25.6″). Colour: Dark blue. 100% cotton. Machine washable. Exclusive to Fashion Classics.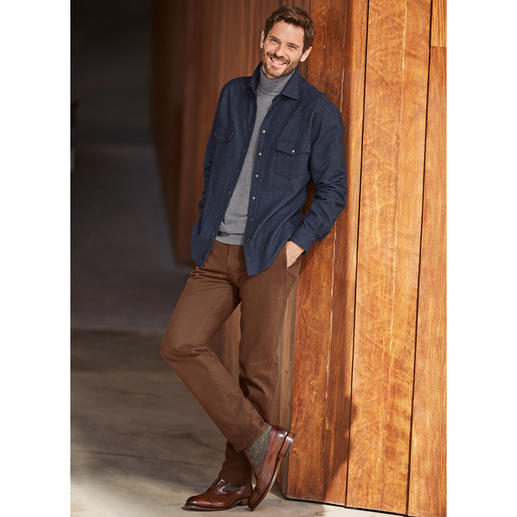 These on-trend pieces go well with 'Flannel Denim Shirt':
Be the first to review this product