04.04.2020 - We are still here for you. Standard delivery currently takes about about 5 to 7 working days. Mohr
Perfect with all basics in a man's wardrobe.
One of the most sophisticated fashionable block stripe shirts.
A pleasure against the skin: Batiste fabric with 33% silk.
The unusually high percentage of silk makes this shirt an exquisite rarity. The slightly cooling effect of the premium fibre is the ideal climatic complement to the breathable cotton. In addition, the silk gives the shirt a subtle chic sheen and a special colour brilliance.
Perfect with all basics in a man's wardrobe.
Whether with a dark blue blazer or camel sports jacket, grey flannel trousers or khaki chinos, the fashionably up-to-date block stripes in classic blue/white are particularly versatile for combining. Kent collar. Breast pocket. Adjustable double-button cuffs. Buttoned sleeve vent.

On-trend slim fit. Length in collar size 16": 79cm (31.1"). Sleeve length 68.5cm (27"). Colour: Blue/white. 67% cotton, 33% silk. Machine washable.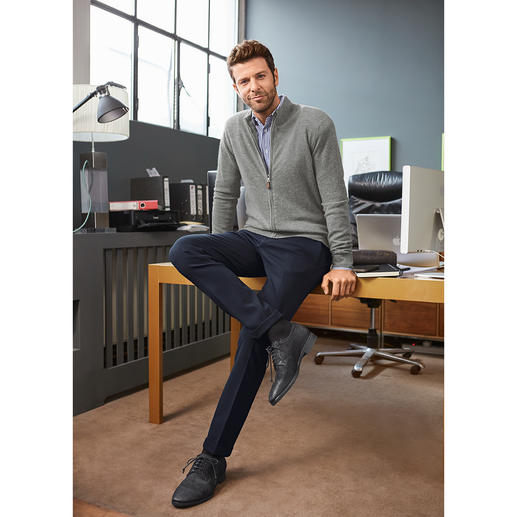 These on-trend pieces go well with 'Silky Block Stripe Shirt':
Be the first to review this product