Goodbye but not Farewell ...
As a result of the Brexit, Pro-Idee is temporarily closing its UK online shop (www.proidee.co.uk) until further notice. We apologise for the inconvenience. Everything you might want to know about the situation is to be found in the FAQs below. It will surely help you navigate through this change and answer the most frequent questions you might ask yourself regarding ordering, shipping, delivering and many other areas which are impacted by the closing of our online shop. As we remain committed to curating a unique selection of high quality products, we invite you to continue shopping in our German, French, Dutch, Austrian or Swiss online shop if you wish to have your order delivered to an address outside the UK. We thank you for the continuous support throughout the years and we hope to be able to reopen our UK online shop in the near future.
Long-sleeved Bretagne Shirt or Brittany T-Shirt for Men
The original shirt from Brittany.
The original shirt from Brittany.
As worn by fishermen since the 19th century. By Saint James, France.
In Brittany, where the strongest winds blow, sailors have worn these shirts since time immemorial. But not just sailors: The original Brittany shirts are already considered part of France's cultural heritage. Though the original is hard to find outside France.
Of course the bold stripes are knitted into the fabric and not merely printed on:
So the colours won't fade after washing. The shirts made of pure cotton are especially skin-friendly and soft. There's no comparison to similar looking shirts that have nothing to do with Brittany except for their stripes. The workmanship makes them extremely hardwearing – a friend for life.

Classic straight cut for men. Length shirt (short and long sleeves) in size 38: 71cm (27.9″). 100% cotton. Machine washable. Made in France.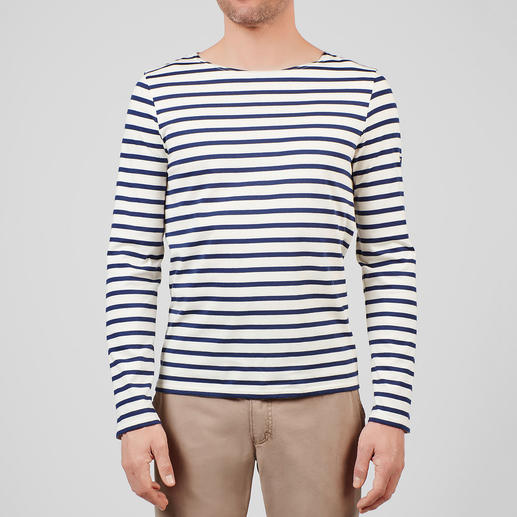 These on-trend pieces go well with 'Long-sleeved Bretagne Shirt or Brittany T-Shirt for Men':
Be the first to review this product