05.07.2020 - You may experience longer delivery times due to the current circumstances and logistic difficulties that are out of our control. Further details are available on the webpage of each product. More
John Smedley Polo Neck Pullover
Can't get much finer.
John Smedley Polo Neck Pullover
Can't get much finer.
Made in rare 30 gauge fine knit.
Can't get much finer.
This pullover made from fine Merino wool by John Smedley weighs less than 10.6 oz. Fits any briefcase.
Some of your alltime favourite pullovers will soon be forgotten. Because this one is just as soft and pleasant – but lighter, finer and more elegant. It can be worn under sports jackets, with your cloth trousers and fine suits. It's equally wonderful for travelling and the office because it's never too warm (except in midsummer).
Made in rare 30 gauge fine knit.
The extremely fine, even knit and the luxurious feel are unmistakeable. John Smedley is one of the world's few knitting specialists who have mastered the elaborate and extremely complicated 30-gauge knitting process. Thirty needles per inch are used for this material. Conventional "fine knit" made with 21 needles almost seems rugged in comparison. The sensitive knitting machines only accept super fine Merino virgin wool – anything else would cause them to break down. It's uniquely soft, light and even textured. The "fully-­fashioned" knit pullover has a close fit and will keep its shape for years to come. Even if you regularly pull it out of your messenger bag or your briefcase (instead of "folding it properly"). With ribbed waistband.

Straight, slightly fitted. Length in size 40: 66cm (26ʺ). 100% virgin wool. Machine wash. Made in the UK.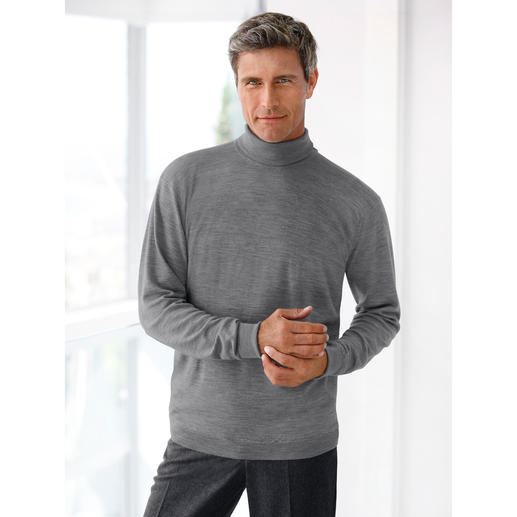 Be the first to review this product
*The specified comparison price/recommended retail price may have been requested by Pro-Idee/the manufacturer some time ago. Due to price adjustments in the meantime, the actual savings may deviate from the last requested price.