Two of the world's most precious fibres in tandem.
Chic cable knit slipover made of baby alpaca wool and pima cotton. By knitwear specialist Clark Ross.
While the global population of sheep is 5 billion, there are only 5 million alpacas. Of these, only a few hundred thousand are baby alpacas. The fine undercoat of the young alpaca is used for this garment: Only fibres with a diameter of less than 19.5 microns and a length of at least 64mm (2.5"-2.67") meet the strict quality criteria. Just as rare and precious is the pima cotton.
A maximum of 2-3% of the world's cotton harvest is fine enough.
The "silk of South America" only thrives in Peru's climate where it reaches a fineness of merely 3.2 – 3.9 microns (in comparison, US-American pima cotton is considerably coarser at 4.6 – 5.5 microns). What's more, in Peru, the cotton is still picked and sorted entirely by hand which prevents damage to the fibres and eliminates the use of chemicals needed for machine harvesting.
Timelessly beautiful cable pattern. 2-ply knit using a special technique.
The baby alpaca wool on the outside of the garment gives it a chic, woolly look. Inside, the silky soft, smooth cotton prevents skin irritation and lint on your shirts.

Regular fit. Length in size 40: 69cm (27.2"). Colour: Taupe. 50% alpaca, 50% cotton. Hand wash only.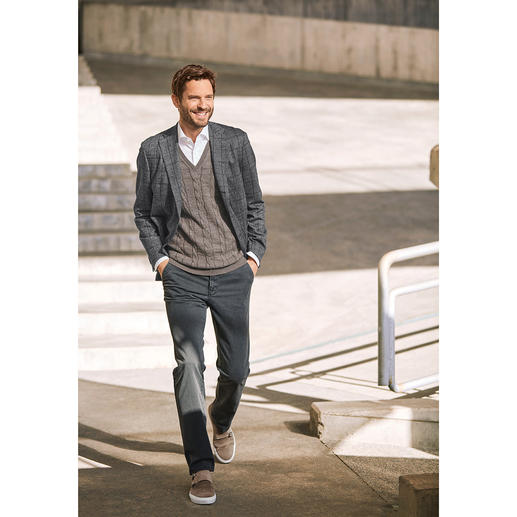 These on-trend pieces go well with 'Inca Cable Knit Slipover':
Be the first to review this product