3-Ply-Cashmere Polo Neck Pullover and V-Neck
3-Ply-Cashmere Polo Neck Pullover and V-Neck
First-rate and rare: 3-ply cashmere from Inner Mongolia.
Timeless V-pullover and neck pullover in classic subdued colours.
Two-ply cashmere is unusual in itself. But 3-ply spun cashmere is even rarer. These cashmere fibres are world class quality from Mongolia. Only in this icy region does the cashmere goat develop such a fine and thick undercoat.
Meticulously combed out by hand.
Only extremely fine (just 15-16 microns thick) fibres up to 38-40mm in length are used as they are the only fibres good enough for this yarn. It is particularly robust and won't pill as quickly as simpler cashmere yarns (made of Afghan cashmere for example).
Endlessly versatile.
The V-neck pullover feels fabulous on your bare skin and also looks great worn the Italian way with a fine shirt underneath and with or without a sports jacket.
The polo neck pullover is a comfortable fit and is traditionally worn with jeans and chinos and a sports jacket. The soft collar nestles warmly around your neck. The ribbed hem retains its elasticity and won't go baggy. Both pullovers are fully-­fashioned knitwear and will fit perfectly for years to come.

Length in size 38/40: 66cm (25.9″). 100% cashmere. Hand wash only. Exclusive to Fashion Classics.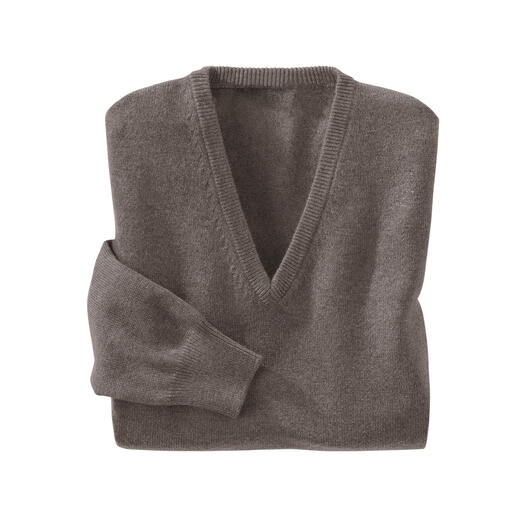 Be the first to review this product