Gran Sasso Geelong Knitted Blazer
Gran Sasso Geelong Knitted Blazer
A softer, better wool blazer is hard to find.
Because this one is made from one of the highest quality wools in the world.
In Geelong, a city in Australia, sheep have been bred for generations, and their wool is one of the highest quality wools in the world. That's why Geelong lambswool has long been a protected brand name representing excellent quality.
This blazer is even made from supergeelong.
Only wool sourced from the first shearing of the lambs is called this. It is so fine that it is also called the "cashmere of wool".
As comfortable as a cardigan. As business-like as a blazer.
The Italian knitwear specialist Gran Sasso uses supergeelong wool for its blazers. The individual parts of the garments are first cut and then sewn together, which is quite unusual for knitted wool garments. This creates the ideal and perfectly tailored fit for which Gran Sasso is so famous. Two large side pockets, single breast pocket.

Classic sports jacket cut. Length in size 40: 71cm (28"). Colour: Brown. 100% virgin wool. Hand wash only.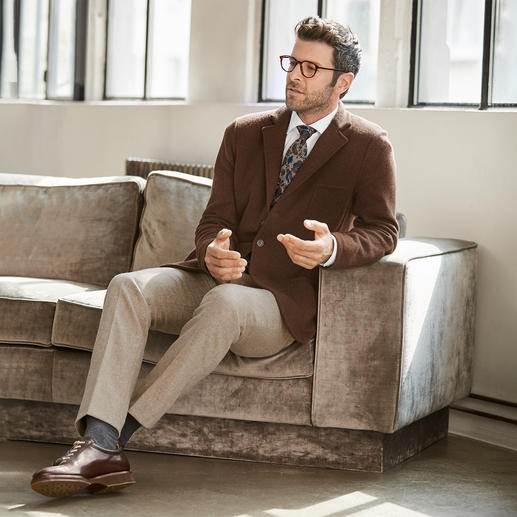 These on-trend pieces go well with 'Gran Sasso Geelong Knitted Blazer':
Be the first to review this product