Carbery Cardigan With Shawl Collar
Carbery Cardigan With Shawl Collar
Traditionally knitted in Ireland. 3 trends in one.
With shawl collar, cable knit and Norwegian pattern. A masterful piece of knitting from Carbery of Clonakilty.
Fashionable cardigans with an on-trend collar and either a classic cable knit or a Norwegian pattern can be found everywhere. But this cardigan combines all three trends in one – and is also a knitted piece of Irish art.
Made on traditional hand knitting machines.
In times of industrial mass-production this cardigan is a real rarity. The back, front and sleeves are individually fully-fashioned and then carefully sewn together. That is why the fit is perfect, the cardigan does not wear out and even after frequent wearing does not lose its shape.
Rich in material and thick. Made of pure lambswool.
Pleasantly soft, durable and hard-wearing enough for everyday wear. With vivid all-over cable pattern, not limited to just the front as with most cable patterns. Denim blue adds a modern colour accent.

Casual straight style with two slash pockets. Length in size 40: 67cm (26.4"). Colour: Mottled beige/black/white/denim blue. 100% wool. Hand wash only. Made in Ireland. Exclusive to Fashion Classics.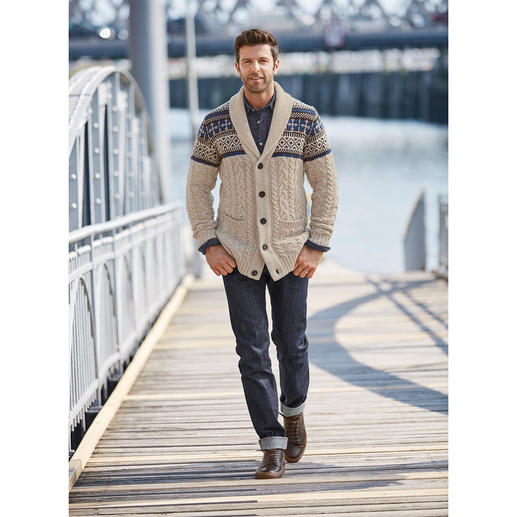 These on-trend pieces go well with 'Carbery Cardigan With Shawl Collar':
Be the first to review this product