Seiko Premier Kinetic Perpetual Men's Watch SNP159P1
Seiko Premier Kinetic Perpetual Men's Watch SNP159P1
Runs up to 800 times longer (!) than conventional automatic watches.
Energy-saving Auto Relay feature eliminates the need for watch winders, manual winding and re-setting.
Automatic watches do not need batteries and do not need winding. Still, most of them come to a standstill after a few days if they are not worn or kept moving by a watch winder. This elegant Kinetic Perpetual watch by Seiko is completely different: Even after years of rest, it automatically adjusts to the current time when it is moved again. The trick: An additional built-in quartz movement continues in the background. As soon as you move the timepiece, the clockwork is quickly activated via a quick start, and the unique Auto Relay system automatically adjusts it to the exact time.
Generates energy from natural arm movements during wear.
This works according to the simple principle of a bicycle dynamo: Arm movements set a flywheel in motion. A gear train increases its speed of rotation by 100 times. From this movement, a mini generator produces the necessary power. Excess energy is stored in a lithium-ion cell.
With perpetual calendar (until February 28, 2100), large date display and 24-hour display.
Clear indices and the subtle design of the additional displays make the guilloche dial easy to read.
Masculine yet elegant and suitable for everyday wear. Suitable both for a business suit and a leisure look.
Housing (screwed base) and link band (with folding lock and safety push-button) made of stainless steel. Waterproof up to 10 bar (100m). Scratch-resistant sapphire crystal. Quartz-precise Seiko Kinetic calibre 7D56; accuracy ± 5 - 15 sec./month. Size (diameter x H): 43 x 12mm (1.7" x 0.5"). Weight: 164g (5.8 oz). Free of charge: The Pro-Idee 36 month long-term guarantee.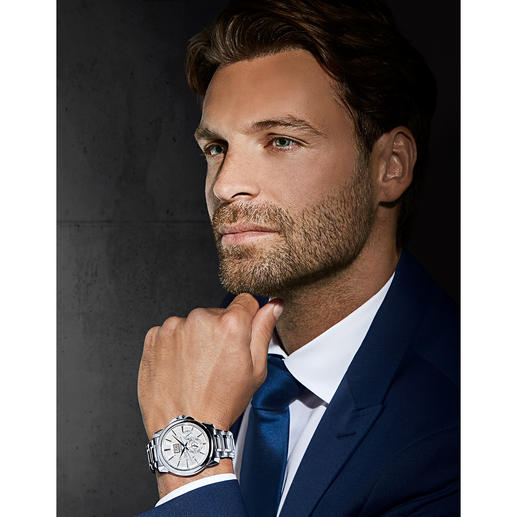 Be the first to review this product