Bulova Curv: The world's first chronograph with a curved movement. Winner of the Inhorgenta Award 2019*.
Attractively comfortable. Sleek, elegant stainless steel design, suitable for any wardrobe.
For the Inhorgenta Award, probably the most coveted industry award for the jewellery and watch industry, a top-class jury selects the best innovative products in eight categories. *Winner in the watch design category in 2019 was this Bulova Curv: A prize to be proud of.
Comfortable combination of innovative technology and an elegantly flat look.
Hardly any other chronograph nestles as comfortably on your wrist. The slightly convex movement allows a particularly flat and curved housing. As a result, the watch adapts perfectly to the natural curve of your wrist and is extremely comfortable. No comparison to the usual, often chunky chronographs: The Curv is only 10.1mm (0.4") high. This means that the watch is never obtrusive, even under cuffs, despite its size.
Powerful quartz technology with 262kHz oscillation frequency for highest precision.
The patented high-performance quartz movement drives Bulova to the highest level of accuracy. While conventional 33kHz results in a deviation of 15 seconds/month, Bulova reduces this to just 5 seconds per month. Complemented by a stopwatch function with three sub-dials for seconds, minutes and hours.
Timelessly beautiful, with a blue dial. Scratch-resistant curved and anti-reflective sapphire crystal. Screwed transparent back cover.
Easy to read with silver-coloured hands and shiny indices. Case and wristband made of high-quality, corrosion-free stainless steel, matt and high-gloss, with reliable double folding clasp. Waterproof up to 30m (98.4 ft). Housing: 44mm (1.7") in diameter, 10.1mm (0.4") high. Wristband (W x H x L): 22 x 3 x 200mm (0.9" x 0.1" x 7.9"). Weight: 135g (4.8 oz).
Bulova – pioneer of American watch history since 1875.
For over 143 years, Bulova has been one of the leading companies in the watch industry, and a major pioneer of American classics. Among other things, the ingenious Joseph Bulova developed the first fully electronic watch with protected tuning fork technology – once the most accurate watch in the world.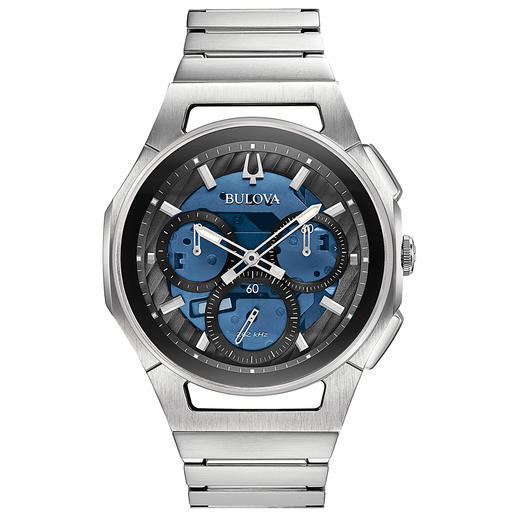 Be the first to review this product