Peregrine Waxed Cotton Waistcoat
Peregrine Waxed Cotton Waistcoat
The proven weather protection of waxed cotton – finally without getting greasy fingers.
The waxed cotton waistcoat by Peregrine/England keeps wind and rain out while keeping you wonderfully warm.
Waxed cotton clothing has been protecting people in the British Isles from rainstorms for over 100 years. With it has come the inevitable greasy hands and often an intense smell of wax. But now these disadvantages are no longer a problem: Thanks to a novel dry coating by wax specialist Hally Stevenson, this waistcoat does not feel greasy nor have a strong smell – yet it's naturally windproof, waterproof and breathable.
Rare with waxed cotton waistcoats: The warm, roughened flannel lining on the inside.
Even the large outer pockets are lined with flannel and thus serve as a replacement for gloves. Soft, warm rib-knit collar in merino wool. Rear pocket, zipped inner pocket.

Classic waistcoat cut. Length in size 40: 73cm (28.7"). Colour: Green. 100% cotton. Rib-knit collar: 100% wool. Machine washable. Made in Great Britain.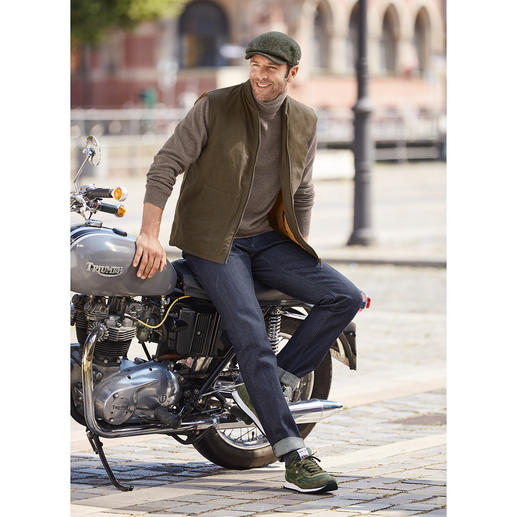 These on-trend pieces go well with 'Peregrine Waxed Cotton Waistcoat':
Be the first to review this product