04.04.2020 - We are still here for you. Standard delivery currently takes about about 5 to 7 working days. Mohr
Washable Leather Waistcoat
Washable Leather Waistcoat
No more leather cleaning.
Your favourite soft waistcoat will come out of the washing machine looking like new.
Made of the finest goatskin suede.
Only the best, unblemished skins are selected for this waistcoat. Unlike most waistcoats, which are lined so the manufacturer can conceal any flaws, this one has no superfluous lining. All you will find is fine leather and meticulously stitched and hemmed seams, so that the waistcoat looks perfect even when unbuttoned. In addition, the inside is fully napped, i.e. smoothed, so that dye and leather won't rub off on your other clothes. The wide armhole also fits over generous jumpers and shirt sleeves. Two buttoned outer pockets and two inner pockets (one with zip) offer sufficient space to carry all you need.
No more leather cleaning.
Whether it's a stain, general dirt, or if the collar's grimy, just pop the waistcoat in the washing machine and add the special leather detergent. The waistcoat is quickly ready to wear again. It will stay soft and look good as new.
The soft cognac colour will go with nearly every colour in your wardrobe – versatile when travelling, practical for leisure wear and smart for "dress-down day" at the office.

Straight cut. Length in size 40: 71cm (28″). Colour: Cognac. Genuine goatskin suede. Machine wash with special leather detergent.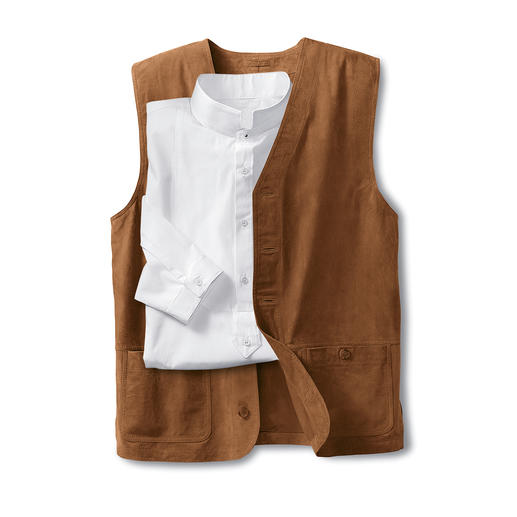 Be the first to review this product