Reindeer Leather "Denim" Jacket
Reindeer Leather "Denim" Jacket
Jacket made from the world's thinnest reindeer nappa leather.
Only the best handpicked reindeer skins from Finland were good enough for this jacket. They are processed by traditional tanneries into 0.3-0.4mm thin leather, which is the absolute premier class when it comes to processing leather. As a result, this jacket weighs only 750g (26.4 oz) (in size 40), while conventional leather jackets weigh one kilogram (35.2 oz) or even more.
Reindeer leather of this quality is strictly limited and regulated in Finland.
For this reason, only the best skins to make a maximum of 4,000 jackets per year are available worldwide. Luckily, we were able to get a small quantity for our customers.
In trendy denim jacket style.
The typical denim jacket style with two buttoned breast pockets (but without the denim fabric) is really fashionable – and goes way beyond the trends.

Regular fit. Length in size 40: 65cm (25.6"). Colour: Dark brown. Real leather. Specialist dry clean only.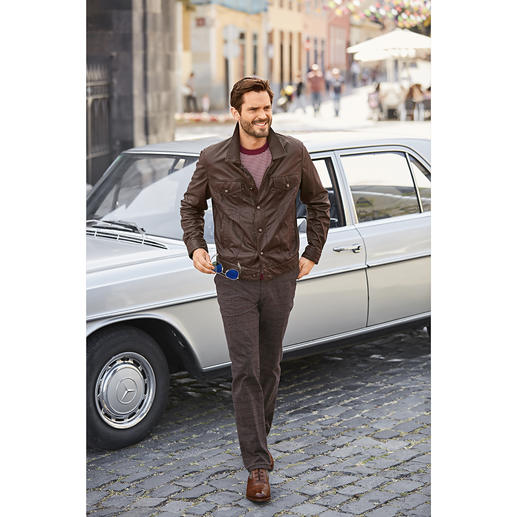 These on-trend pieces go well with 'Reindeer Leather "Denim" Jacket':
Be the first to review this product