A jacket for a lifetime.
Generously cut from full leather.
A jacket for a lifetime.
Generously cut from full leather.
Timeless, beautiful jacket from unusual elk leather.
Each one unique and as soft as butter.
This magnificently opulent, beautifully soft and supple leather comes from wild Scandinavian elks. It is an extremely strong material, and is naturally more robust, hard-wearing and long-lasting than other soft leathers.
A jacket for a lifetime.
The classic cut has been intentionally designed to avoid short-term fashions, as this jacket is meant to last you a lifetime. The long length (in size 42R: 87cm (34.2")) comfortably covers thick jumpers or a sports jacket. It's just the right thing to take when travelling and is elegant enough to wear to work.
Generously cut from full leather.
Using only the best hides. It has a short, windproof collar and lapel, durable leather-reinforced buttonholes, two large flap pockets and three deep inside pockets within the lining. Every seam has been carefully considered. Double French seams reinforce the areas subject to strain. This jacket, made from su­persoft, durable elk leather, is not only very unusual, but also hard to find.

Loose cut. Length in size 42R: 87cm (34.25"). Shell: Genuine elk leather. Taffeta lining: 60% viscose, 40% acetate. Colour: Brown. Made in Finland.
Genuine elk leather – a long-lasting, natural material.
In order to maintain manageable herds in the Scandinavian forests, a certain number of elks are culled every year. This way, numbers are limited in harmony with nature.
Every piece has a history.
The structure of the leather can be read like a book. There are marks that bear witness to bites and struggles over food and territory; there may be small scars from insect bites. And the tiny holes, which look like fine pin pricks are the natural pores of very strong hair on the hide. After tanning, the elk leather is thoroughly dyed, instead of just being sprayed with colour. This process deliberately exposes the natural shading, scars and other marks as a reminder of "nature red in tooth and claw".
Easily cared for to retain its value.
Just spray the leather from time to time with a colourless spray; wipe off any rain with a soft, damp shammy. Allow to dry slowly at normal room temperature and reshape as necessary. That's it. However, real elk lovers tend to spend less time looking after their jackets, preferring the weathered effect that comes with time.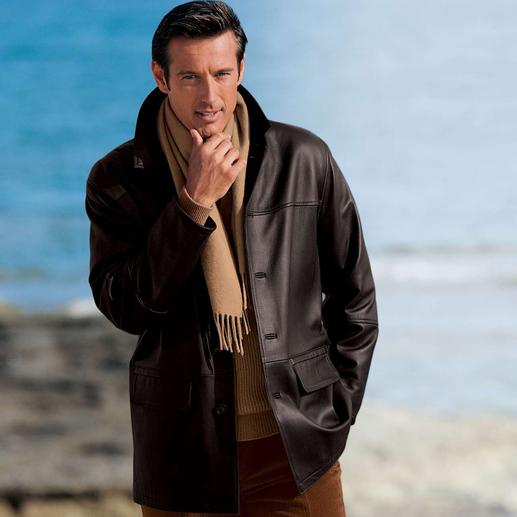 Be the first to review this product