Goodbye but not Farewell ...
As a result of the Brexit, Pro-Idee is temporarily closing its UK online shop (www.proidee.co.uk) until further notice. We apologise for the inconvenience. Everything you might want to know about the situation is to be found in the FAQs below. It will surely help you navigate through this change and answer the most frequent questions you might ask yourself regarding ordering, shipping, delivering and many other areas which are impacted by the closing of our online shop. As we remain committed to curating a unique selection of high quality products, we invite you to continue shopping in our German, French, Dutch, Austrian or Swiss online shop if you wish to have your order delivered to an address outside the UK. We thank you for the continuous support throughout the years and we hope to be able to reopen our UK online shop in the near future.
Gloverall duffel coat
The good old duffel coat.
Gloverall duffel coat
The good old duffel coat.
The good old duffel coat.
In the 18th century, a coarse woollen fabric came from the Belgian town of Duffel and has made coat history ever since. During the war, it was standard issue in the British Navy and became well-known thanks to Field Marshal Montgomery. Jean-Paul Sartre and Jean Cocteau wore it. The vigorous, indestructible duffel coat has kept its comfortable cut, the warm hood, sewn-on pockets and the tried and true toggle fastenings that are even easily closed by ice-cold fingers. However, the once-rough outer layer has been upgraded to valuable wool and made more robust with a touch of polyamide. This makes it both pleasantly soft and light. Traditional "double-faced" manufacturing.

Comfortable cut. Length in size 40/42: 95cm (37.4"). 80% wool, 20% polyamide. Contains non-textile parts of animal origin (buttons made of horn and leather toggle fastenings). Dry clean. Made in England.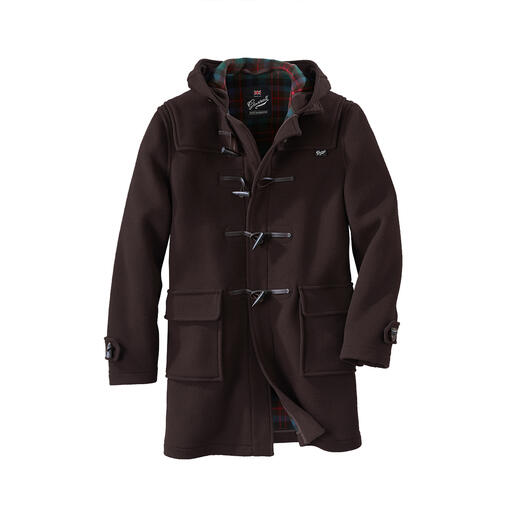 These on-trend pieces go well with 'Gloverall duffel coat':
Be the first to review this product