Belts like this are a rare find.
Belts like this are a rare find.
Hidden quality.
Handwork, solid brass and cowhide leather.
No belt is as versatile as a plain cowhide belt with subtle buckle. You'll especially love this belt and wear it often, as you will appreciate its perfect proportions at first sight. And even after many years, you will be delighted that it still looks like new.
Belts like this are a rare find.
The quality of the materials is not initially visible – full-grain leather and solid brass buckles are too unnoticeable for many manufacturers – and too expensive. This belt, however, is made of such vegetable tanned cowhide. Both outer and lining are made of the same full-grain leather, which makes them particularly hardwearing and durable. Most – and often expensive – belts are only lined with fast-cracking split leather. The round edges are hand-polished and sewn with a fine quilting stitch. The buckle, made of solid, silver-coloured galvanised brass, is much more durable than conventional metal alloys and remains beautiful for years without scraping or flaking.

Width: 3cm (1.2"). Colour: Black. Made from cowhide leather. Buckle: Brass.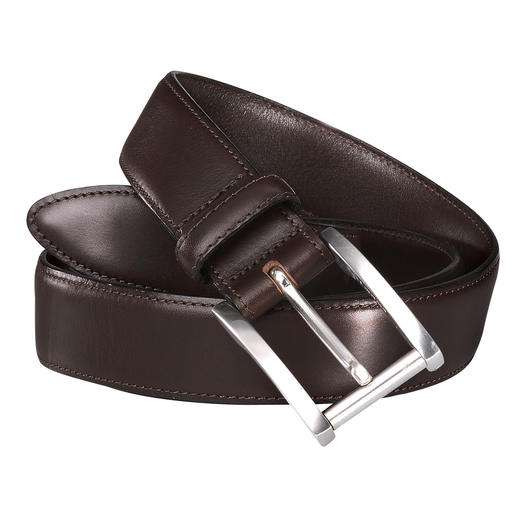 Be the first to review this product