Goodbye but not Farewell ...
As a result of the Brexit, Pro-Idee is temporarily closing its UK online shop (www.proidee.co.uk) until further notice. We apologise for the inconvenience. Everything you might want to know about the situation is to be found in the FAQs below. It will surely help you navigate through this change and answer the most frequent questions you might ask yourself regarding ordering, shipping, delivering and many other areas which are impacted by the closing of our online shop. As we remain committed to curating a unique selection of high quality products, we invite you to continue shopping in our German, French, Dutch, Austrian or Swiss online shop if you wish to have your order delivered to an address outside the UK. We thank you for the continuous support throughout the years and we hope to be able to reopen our UK online shop in the near future.
Albert Thurston Braces
The English gentleman's braces.
In versatile basic colours.
Albert Thurston Braces
The English gentleman's braces.
In versatile basic colours.
The English gentleman's braces.
By the braces manufacturer with arguably the richest tradition in the world: Albert Thurston, since 1820.
Albert Thurston has served kings, princes, presidents, film stars and businessmen since 1820. To this day the straps and trimmings are still hand stitched from indestructible yet soft bridle leather. And the silver, stainless steel clips are buffed with a soft cloth to a highly polished sheen.
In versatile basic colours.
The distinct British penchant for bright colours and loud patterns does not always jibe with international tastes. So this is the understated basic classic from Albert Thurston: It goes with virtually anything. And is so popular around the world that it has been made the same way for half a century. Adjustable elastic straps. Elastic inset at the back. Attaches with buttons or clips. Approx. 3.5cm (1 2⁄5") wide. 79% polyester, 21% elastodiene. Contains non-textile parts of animal origin (leather straps and trimmings). Made in England.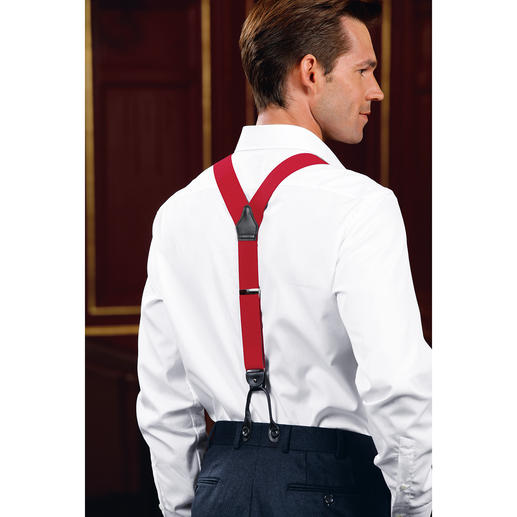 1
2
3
4
5
6
7
8
9
10
11
12+
These on-trend pieces go well with 'Albert Thurston Braces':
Be the first to review this product