3D print made in Germany.
3D print made in Germany.
Good news for drivers. And for sailors, skiiers, alpinists, ...
The 3D-printed glasses with unique DriveWear® glare protection. Made in Germany.
Frame made by an industrial 3D printer. Lenses with polarisation filter and billions of self-colouring molecules. The Headrix® sunglasses don't just look extremely cool. They are a show piece of modern technology. The slightly matte DriveWear® lenses even tint themselves dark behind the windscreen. Their secret: Instead of only reacting to UV light, they also react to long-wave, visible light.
3D print made in Germany.
Based on graphic data that is transmitted to an industrial 3D printer. The glasses frame and side pieces are formed layer by layer on the moveable platform of the printer: Fine, white polyamide powder builds the bed, a laser beam melts the shapes in it and hardens them. The subsequent vibratory finishing in the rock drum produces the nice structure. The colour finish seals the surface and protects from sweat and dirt. The selective laser sintering (SLS) process is almost unheard of when it comes to glasses – and it's truly singular in combination with polarised DriveWear® lenses.

Sturdy, lightweight frame made of polyamide tolerated by the skin. Colour: Khaki. Bridge width: 18mm (0.7″). Side piece length: 13.5cm (5.3″). Phototropic polarisation lenses, 41mm (1.6″) h, 52mm (2″) w. Filter: 65-88%. Not suitable for night-time driving. Weight just 25g (0.8 oz). Incl. storage case and cleaning cloth. Made in Germany.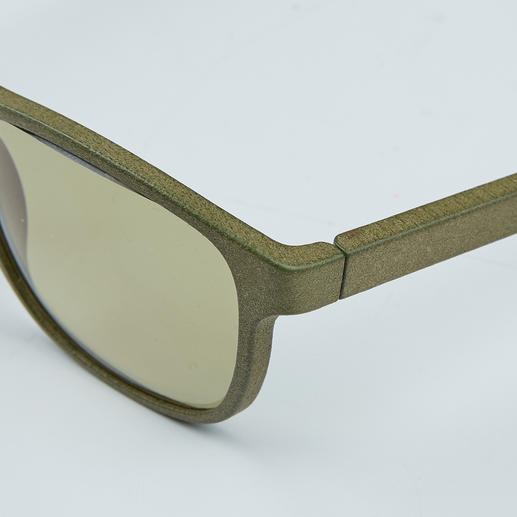 Be the first to review this product