04.04.2020 - We are still here for you. Standard delivery currently takes about about 5 to 7 working days. Mohr
Fish-roast and Serving Pan
From the Pro-Idee Special Shop
Cuisine
From the oven, direct to the table.
Elegant white porcelain. Heat-resistant up to 160°C. Stackable to save space
Fish-roast and Serving Pan
From the Pro-Idee Special Shop
Cuisine
From the oven, direct to the table.
Elegant white porcelain. Heat-resistant up to 160°C. Stackable to save space
Succulently roasted fish: Perfectly browned all over and served with style.
Easier than ever on this ingenious oven plate. Without tricky turning and moving around.
Using this ovenproof porcelain dish, whole fish end up perfectly crispy without any effort. Simply put the seasoned fish with the belly side on the arch, surround it with vegetables or herbs if you wish, and slide it onto the rack in the oven. Without any tricky turning, bream, trout, char, etc. are all cooked evenly on all sides and browned to a crisp. Nothing swims in fat, and no liquid soaks the crispy skin.
From the oven, direct to the table.
Simply place the hot pan onto a heat-proof surface. Your fish keeps hot for a long time and can be cut up easily. Simply cut open along the back and take the meat from the sides.
Elegant white porcelain. Heat-resistant up to 160°C. Stackable to save space
Complements practically any tableware and all table decorations. Size 40x22.5cm (15.7"x8.9") oval, weight ca. 1kg (2.2 lbs). Dishwasher safe.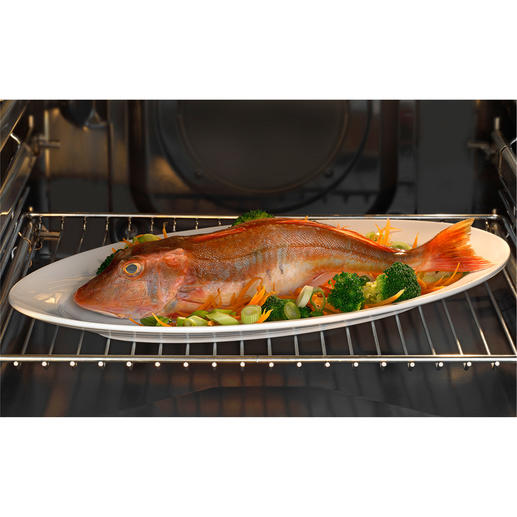 Be the first to review this product