Compact 5-piece Chopping Board Organiser
4 chopping boards elegantly stored and conveniently to hand.
From the Pro-Idee Special Shop
Cuisine
4 chopping boards elegantly stored and conveniently to hand.
Sophisticated design, well thought-out functionality and compactly space-saving. By Joseph Joseph.
Put an end to loose kitchen boards that fall over, slide, and clutter the work surface. This slim box holds 4 large cutting boards (34 x 24cm (13.4" x 9.4")) in a very small space. Clearly arranged and visibly distinguishable by colour. This way, you have the right board for e.g. poultry, fish, meat and vegetables to hand at once.
Easy on knives. Non-slip. Can be used on both sides.
The slightly textured plastic surfaces protect your knives and prevent the food from slipping. Non-slip feet and juice grooves on both sides for a safe grip and a clean working surface.
The chopping boards can be cleaned hygienically in the dishwasher.
In the storage box, the boards are spaced away from each other. This allows the air inside to circulate better and any residual moisture to dry off quickly and completely.
In 4 colour variations to match your kitchen.
Storage box made of anti-fingerprint stainless steel (either with a matte stainless steel or rose gold coloured finish) or ABS plastic (either with a silver or  graphite coloured finish). Chopping boards made of black food-safe plastic. Size in total (H x W x D): 25.5 x 35.5 x 7cm (10" x 14" x 2.8"). Weight 3,300g (7.3 lbs). By Joseph Joseph, London.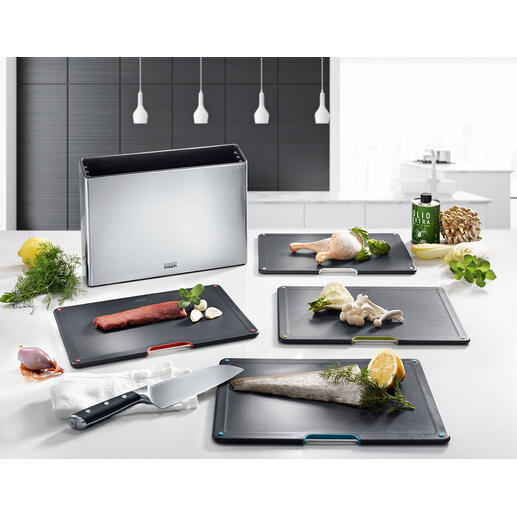 This might also interest you:
Be the first to review this product