Thermal Mug With Strainer
From the Pro-Idee Special Shop
Cuisine
Thermal Mug With Strainer
From the Pro-Idee Special Shop
Cuisine
Award-winning design and perfect insulation. Closes 100% tight. And even prepares tea.
Stylish thermal mug and tea maker in one. Awarded the iF Design Award 2019 in the Product Design category.
This award-winning double-walled mug keeps your hot drinks hot and cold drinks refreshingly cool for longer in the car, in the city, at your desk, etc. The vacuum between the stainless steel walls is optimally insulated. And, unlike conventional thermal mugs, this is also the perfect tea maker on the go.
Effortless and anywhere you like: Freshly brewed tea exactly to your taste.
Simply pour in boiling water, insert the strainer (supplied), close the mug and turn it upside down. Turn the cup over again after the desired brewing time. The strainer sits above the infusion so that it can just stay in the mug, yet your tea does not infuse any further and does not become bitter.
With tight-fitting lid. Convenient to use with just one hand.
Unlike simple plastic mugs, the powder-coated stainless steel also withstands powerful bumps and shocks. Also ideal for carrying in a backpack, sports bag, etc.
Designed by Danish design label "Tools" for Eva Solo.
Made of stainless steel and plastic, with silicone strap. Size (diameter x H): 7.3 x 18cm (2.9" x 7.1"). Weight: 430g (15.2 oz). Holds 0.35 litres. Dismantles fully, dishwasher safe.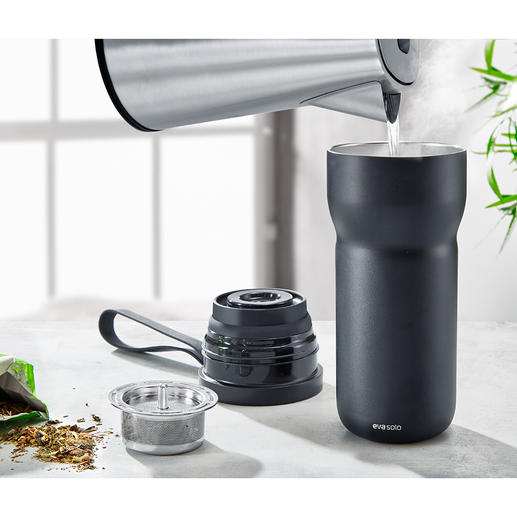 Be the first to review this product