From the Pro-Idee Special Shop
Cuisine
Your dexterity remains unaffected.
From the Pro-Idee Special Shop
Cuisine
Your dexterity remains unaffected.
These protection gloves let you hold hot casserole dishes – and even burning logs.
Made from heat-resistant material, as used in racing driver outfits. And far more flexible than ordinary grill gloves. Now even safer with silicone nubs.
Forget about conventional grill gloves made of quilted materials or stiff silicone. These softly lined knitted gloves made from Nomex® with Kevlar® are made up of the same material as the protective outfits for fire fighters and racing drivers. They are extremely robust, spark and flame proof, resist temperatures of up to 350°C – and prevent heat from entering for a full 15 seconds. Enough time to remove siz­zling roasting trays or casserole dishes from the oven.
Your dexterity remains unaffected.
Also ideal for exchanging hot light bulbs, when welding or soldering, or for spreading embers in the fireplace. Please steer clear of hot liquids. 75% Nomex®, 25% Kevlar®. Lining: 65% cotton, 35% polyester. Machine wash up to 40°C.

Nomex® and Kevlar® are registered trademarks by El du Pont de Nemours and company.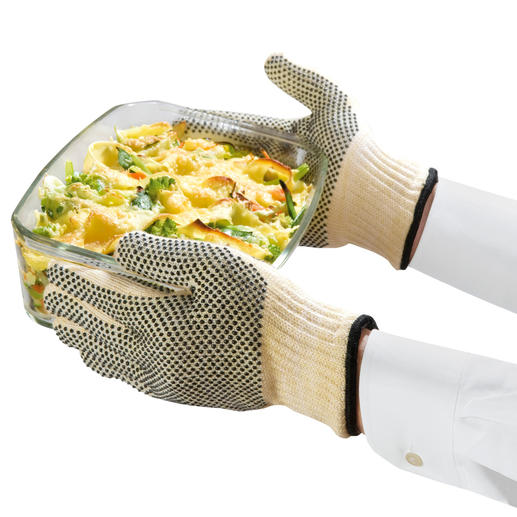 Be the first to review this product