05.04.2020 - We are still here for you. Standard delivery currently takes about about 5 to 7 working days. Mohr
From the Pro-Idee Special Shop
Cuisine
From the Pro-Idee Special Shop
Cuisine
The superior kitchen grater, with the expertise of the knife specialists at KAI.
Photochemically etched (instead of stamped). Blade sharpness and precision made in Japan.
Just as the famous KAI chef's knives, these kitchen graters guarantee extreme sharpness and precision. Instead of being simply punched, the blades are photochemically etched from 18/10 stainless steel: Ultra-fine, extremely efficient and virtually maintenance-free. Positioned at the optimum angle, you can precisely cut the food to be grated (instead of tearing it). Hard and soft materials can glide almost without any friction. Without strain, without effort. Nothing gets crushed.
3 specialists for almost every task. Only rarely to be found - the Julienne slicer.
In the twinkling of an eye you can slice carrots, kohlrabi, cucumber, ... into 2-3mm thin (.07-.11″) julienne strips. Use the fine and zesting grater to grate citrus peel, hard cheese, ginger and nutmeg. And on the 2-way grater you can grate even larger quantities of chocolate, soft cheese, vegetables, etc., into neat slices.
Ergonomic. Dishwasher safe. And an attractive eye-catcher on the kitchen shelf.
When not in use, a plastic cover protects against the risk of injury. Measuring 10 x 3-5 x 2.3cm (3.9″ x 1.2-1.9″ x 0.9″) (L x W x H) each, weighs 128g (4.5 oz). With non-slip silicone finish.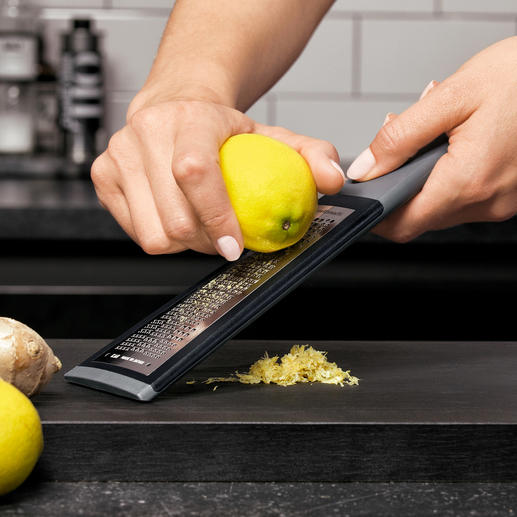 Be the first to review this product