Richlite® Spoon and Spatula
From the Pro-Idee Special Shop
Cuisine
Richlite® Spoon and Spatula
From the Pro-Idee Special Shop
Cuisine
As beautiful as wood. But dishwasher safe and much more hygienic.
Indestructible kitchen utensils made of laminated wood fibre. Made in the USA.
More robust than wood. Much more heat-resistant than plastic and hygienically cleanable in the dishwasher. And in contrast to metal, much gentler on surfaces. These almost indestructible kitchen utensils made of laminated wood fibre (Richlite®) provide outstanding functionality in the kitchen.
Even after years, as hygienic (and beautiful) as on the first day.
Thanks to the extremely smooth surface, odours and bacteria cannot linger as easily. They won't become brittle or discolour (as is often the case with wood). Fully compliant with the strict provisions of the American NSF (National Sanitary Foundation), suitable for use in the food service industry. Spoon 29.5cm (11.6") long, weight 60g (2.1 oz). Spatula 32cm (12.6"), 60g (2.1 oz). With hanging hole for storing. Heat-resistant up to ca. 175°C. Dishwasher safe.
Originally developed for aircraft and ship building.
The composite Richlite® has proved to be outstanding for use as heavy duty kitchen worktops since the 1960s. It is made from over 60 layers of natural wood-cellulose fibre, which are impregnated with phenol resin and fused inseparably by compression.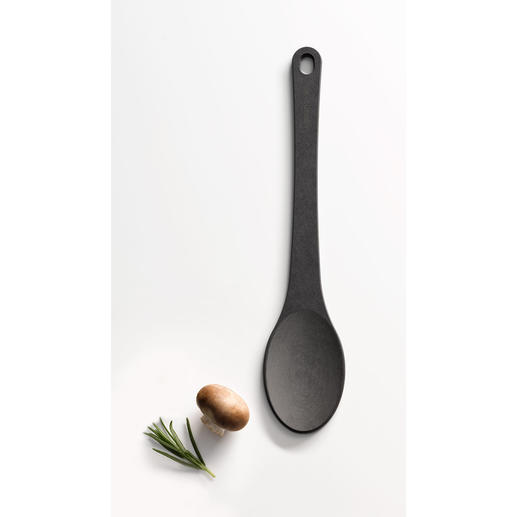 Be the first to review this product