05.04.2020 - We are still here for you. Standard delivery currently takes about about 5 to 7 working days. Mohr
Hot Air Fryer Bistro Vital
From the Pro-Idee Special Shop
Cuisine
10-in-1 multipurpose device for a variety of dishes. Healthy, low-fat and low-calorie.
Roasts, bakes, braises, dehydrates, grills, gratinates, toasts, heats up. Even roasts coffee. And fries food using almost no fat.
Instead of space-consuming (and expensive) separate devices, you only need this multi-talented air fryer. The Bistro Vital is a 1,800W air fryer, grill with rotisserie, automatic dehydrator and convection oven with 5 settings, and takes up only 32 x 38cm (12.6" x 15.0") of counter space. It even includes an automatic roaster: For approx. 250g of green coffee exactly to your taste. Also ideal for flavoured, roasted nuts.
Saves time, effort and up to 80% (!) oil*.
Modern technology enables the hot air to circulate to the optimum. The food is evenly cooked from all around, instead of only from above – as is often the case. 350g of frozen chips are ready in about 20 minutes without the need for added oil. Chips made from fresh potatoes just need ½ a tablespoon of oil. You can also fry chicken nuggets, potato wedges, fish and many other delicacies quickly and perfectly: Crispy on the outside, juicy on the inside.
Huge 12 litres capacity (instead of the common 9 litres).
So, you can prepare e.g. up to 500g goujons of fish in one go. Or even grill a whole chicken. Thanks to the large viewing window and the integrated light, you can keep an eye on your food at all times.
A fully automated convection oven with temperature selection (30-200°C). Ideal for baking, roasting, gratinating, braising, dehydrating etc.
Cakes, casseroles, quiches or delicious bread are baked in no time without having to preheat the fryer for a long time. Or you can fry fish, make cheese on toast, stew vegetables and dry fruit.
Easy to use with 8 pre-set programmes.
Simply tap the sensor button to select the appropriate programme (chips, steaks/nuggets, fish, roasting, chicken, cakes, rotisserie, dehydration) to start – the electronic control will do the rest. Of course, it's also completely individually adjustable. High-quality, heat insulated housing. Measures 32 x 42 x 38cm (12.6" x 16.5" x 15.0") (W x H x L), weighs approx. 5.5kg (12.1 lbs). Incl. 2 wire shelves, baking tray, rotating basket, rotisserie, fork. Approx. 120cm (3.9ft) connection cable for 220-240V/1,800W.

*Compared to the preparation of fried chicken strips in a conventional deep fryer.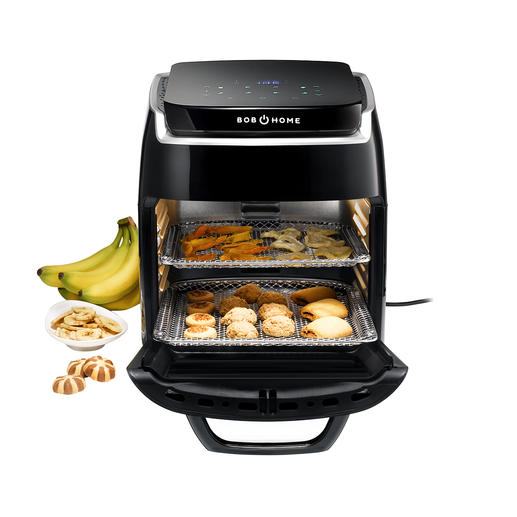 Be the first to review this product