Rotating Food Dehydrator ED 8
From the Pro-Idee Special Shop
Cuisine
Rotating Food Dehydrator ED 8
From the Pro-Idee Special Shop
Cuisine
The technology of professional food dehydrators – now also available for home use.
With rotating (instead of fixed) trays. For fast and perfectly evenly dried food.
This machine can't be compared to conventional dehydrators as its drying trays rotate during drying, as with (expensive) commercial devices. The advantage: Fruit, tomatoes, herbs etc. dry faster and perfectly evenly. What's more, rearranging the drying trays during dehydration is not necessary.
5 trays offer approx. 3,900cm² (604in²) of drying space. Expandable up to 9 trays*.
This way, you can also dry larger quantities in one operation. There is also enough space for large foods (e.g. whole mushrooms). The machine only uses 500W of power unlike the energy consumption when drying in the oven.
Dried fruit, banana chips, muesli bars etc, simple to make at home. Without additives, without adding sugar or fat.
Meat, herbs, (tea) flowers and vegetables can have their shelf life extended for months thanks to the removal of the water. Nutrients are retained and flavours are concentrated. Supplied with a fine-meshed herb sheet and muesli bar mould.
Fruit leather – a food trend and healthy snack.
Simply spread out puréed fruit onto the jelly insert provided and dry. Cut into strips, this makes a delicious (and healthy) alternative to artificial fruit gums or a great decoration for cakes.
With 48-hour timer and automatic switch-off.
Simply set the temperature and dehydration time (35-70°C/1–48 hours). The electronically controlled ventilation distributes the heat evenly over all levels. Easy-care plastic housing. Measures 31 x 34.5 x 36cm (12.2" x 13.6" x 14.2") (H x W x D), weighs 3.4kg (7.5 lbs). 80cm (2.6ft) mains cable for 230V/500 W.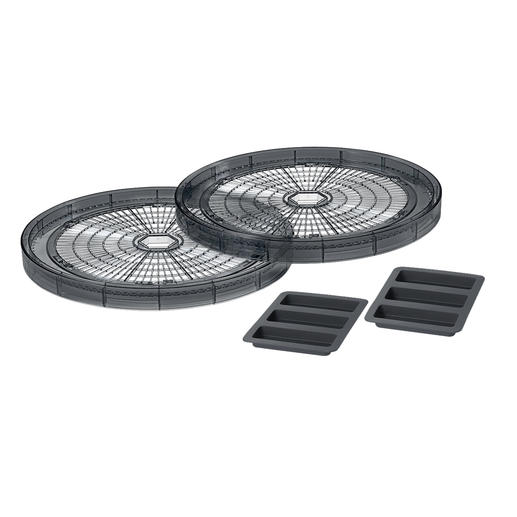 Be the first to review this product