From the Pro-Idee Special Shop
Cuisine
From the Pro-Idee Special Shop
Cuisine
Cutlery, napkins, spices, sauces, … available on the spot.
The woven basket made of durable saddle leather keeps your utensils handy.
Within seconds, the table can be cleared and conveniently transferred with the handle to the table, buffet. Everyone serves themselves: You save time and can focus entirely on your guests and your family.
More practical and more versatile than a tray.
There are knives, forks and spoons in three compartments (up to 72 pieces!) - or napkins and dessert utensils. Also ideal for partypickers, drinking straws, syrups, … on the stove as a cooking spoon collector and in the bathroom for sprays and bottles.
Woven from saddle leather and lined with leather; nice and cosy, sturdy and durable.
Leather strips closely woven and of equal width form the classic "basket weave" pattern, which has a smooth surface and is free of visible attachments. The smooth leather lining firmly reinforces the weave. All-round edge protection with leather piping. Sturdy riveted leather dividers. The leather base is placed slightly higher (not visible from the outside) - keeps it clean from stains and dirt. Measures 19 x 14 x 12cm (0.21″ x 0.15″ x 0.13″) (L x W x H). Weighs 270g (9.5 oz). Colour: Black. Can be wiped with a damp cloth.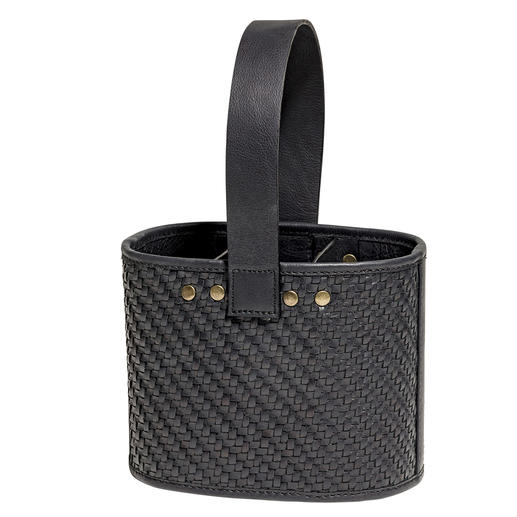 Be the first to review this product