Lalique Pepper Or Salt Mill
From the Pro-Idee Special Shop
Cuisine
Lalique Pepper Or Salt Mill
From the Pro-Idee Special Shop
Cuisine
A stylish impression of nature: The luxurious salt and pepper mills by Lalique.
Finest French glass art. With precision grinder by Peugeot.
This pepper mill was first developed as a collaboration between Lalique and Peugeot almost 100 years ago. Now it is being reproduced as a replica, from the same original companies. The rounded, heavy body is created by a special Lalique glass casting technique for frosted crystal glass. The low sheen leaf relief is produced with extremely high accuracy.
Durable precision Peugeot hardened steel grinder for pepper, corrosion-resistant stainless steel for salt.
The spiral cutter with a double row of teeth achieves a higher, more consistent performance using fewer turns. Corrosion-resistant stainless steel prevents the grinder of the salt mill from rusting. The mill remains durable, precise and smooth.
Infinitely adjustable, from coarse to fine.
The desired degree of grind remains constant. The crystal glass wheel lies pleasantly firmly in the hand. Screw knob made of silver-plated metal. Top engraved with Lalique signature. Each measures 9cm (3.5") H, max. 5.8cm (2.3") in diameter. In gift box.
Lalique and Peugeot – an all-time alliance.
Lalique is considered one of the major glass artists of French Art Nouveau. His objects are unique icons and found in the most important museums. They even travelled around the world: In 1929, Lalique equipped the Orient Express and later the luxury cruise ship "Normandie".
For 175 years, Peugeot grinders have been produced almost unchanged, with the mechanism forged in France. They are still among the best in the world.
French glass artist René Lalique (1860-1945).
He had the gift of putting poetry and sensuality into cool glass. The artistically embossed vases, figures, bottles, etc. appear to be silky satin. But Lalique has also lent the beauty of exquisite elegance to everyday objects.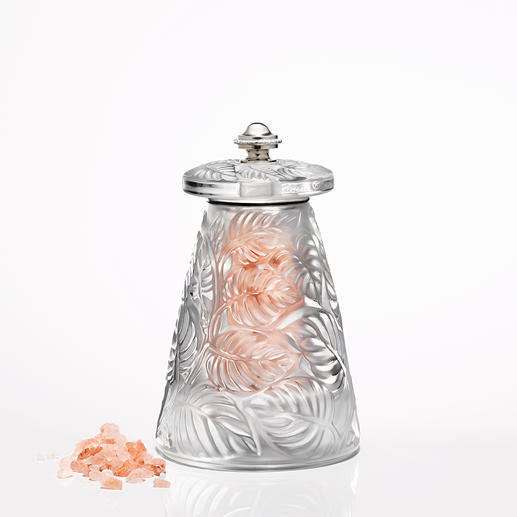 Be the first to review this product