From the Pro-Idee Special Shop
Cuisine
Ice cube maker, cooler and tongs as a set.
From the Pro-Idee Special Shop
Cuisine
Ice cube maker, cooler and tongs as a set.
Make 16 triangular ice cubes to cool drinks in a quick and easy way.
Elegant "Tools" design from Denmark for making and serving ice cubes. Made of highly polished stainless steel, silicone lid/mould.
This tool makes it very easy to create beautiful, triangular ice cubes. You no longer need an impractical, overflowing mould, or have to endure the hassle of pushing ice cubes out of a plastic bag. Surprise your guests at your next party with beautiful ice cubes from this cool design: A giant apple shape, in which you both make the ice cubes and serve them as well.
Ice cube maker, cooler and tongs as a set.
Fill the handy silicone cover with water and place it in the freezer. With one turn you easily drop the16 ice cubes in the practical stainless steel bowl, to have the ice cubes ready to be served. The bowl is double-walled, which keeps the ice cold and in shape. The lid is easy to lift with the stainless steel handle that also serves as tongs. Made of black silicone and highly polished stainless steel, 16.5cm (6.5") diameter, with tongs 13cm (5") high. Total weight approx. 600g (21.2 oz).
Designed by the Danish design label "Tools" – for Eva Solo, a company with over 70 years of experience.
Awarded the FORM Design Award 2000, The International Design Yearbook 2001 and the Grand Prix de l'Art de Vivre 2003.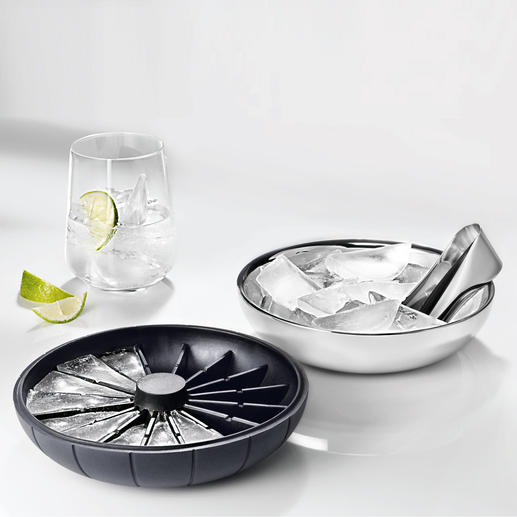 Be the first to review this product