From the Pro-Idee Special Shop
Cuisine
From the Pro-Idee Special Shop
Cuisine
The nicer (and more appetizing) way to serve snacks.
In an elegant snack dispenser made of crystal glass. Mouth-blown in the Valentin Eisch glass manufactory.
Nuts, pistachios, candy-coated chocolates, ... This elegant snack dispenser gives each guest the desired portion directly into their hand. Nobody has to reach unhygienically into a filled bowl. And, unlike dispensers made of porcelain or stainless steel, the brilliant crystal glass reveals the contents at a glance. A perfect symbiosis of style and function.
Stylishly serves table water, wine, juices, dressing, dessert sauces, ...
Matches any cutlery and all decorations. As beautiful on the table as on your party buffet, for aperitifs in the lounge, at the bar, ... The curved shape sits easily in the hand – perfect for precise and measured pouring.
Thin-walled and mouth-blown. But still sturdy and even dishwasher safe. Handmade in Germany.
Measures 19cm (7.5″) H, diameter max. 9.7cm (3.8″). Weighs 200g (7 oz). Holds 500ml (17 oz).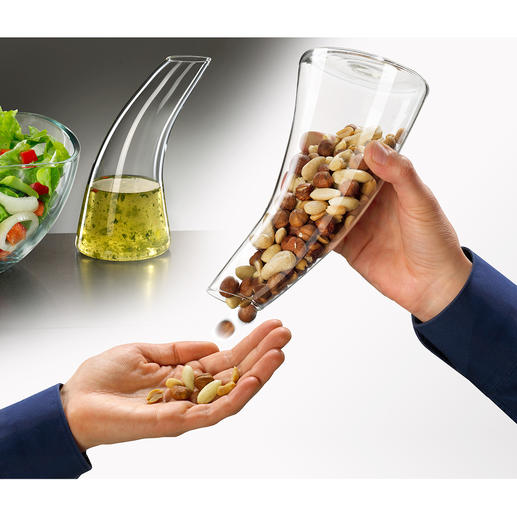 Be the first to review this product