Precious hand-blown crystal glass – hand coated with 24 carat gold.
The drip-free carafe in an award-winning design* with real gold behind glass, sealed with stylish polystone.
*In the competition for the coveted German DINEUS 2019 Tableware Award, this carafe from Frauenauer Glashütte Eisch emerged as the winner. The jury was very impressed by the successful combination of high-quality aesthetics and innovative, extraordinary materials. A truly decorative jewel on the festively laid table, at your bar, as a gift.
World-class glassblowing art made in Germany.
As in the old days, the carafe is mouth-blown from crystal glass in Bavaria's glassworks. The refinement with 24 carat gold is finely done by hand and is permanently etched-in at 560 °C. The glass thus takes on a wonderfully warm, deep shine that makes your wines and table waters shimmer elegantly.
Trendy coating in a stone-look, the precious gold plating is sealed against scratches.
The carafe is impressively embedded in black polystone and fits snugly in your hand - giving it a cool and modern look.
No-drop design prevents dripping.
Your table stays clean; the outer surface of the carafe is not stained. Hand wash with plain water recommended; dry with a soft cloth. Measures 32.8cm height, 7cm in diameter (12.9″ H, 2.75″ diameter). Weighs approx. 0.59kg (1.3 lb) and holds 1 litre.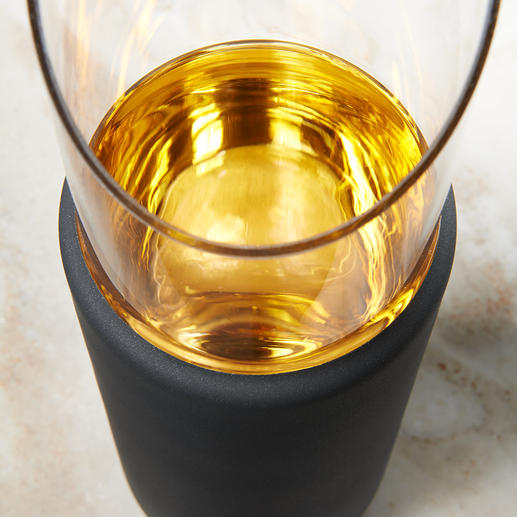 Be the first to review this product