From the Pro-Idee Special Shop
Cuisine
From the Pro-Idee Special Shop
Cuisine
The better (and more beautiful) knife for pizza, tarte flambées and co.
Easily and cleanly cuts crust and toppings. And matches any cutlery. Quality made in Germany.
Whether light American-style pizza or crispy from the stone oven: With these sophisticated pizza cutters, you cut the delicacy perfectly. Much lighter than standard, narrow cutlery knives, this broad, serrated blade slices through toppings and crust – no extra pressure required and with a clean cut. Cheese, salami, mushrooms – they stay on the dough. Nothing is unappetizingly crushed. Slice through even the crispiest crust with ease, thanks to the tip.
Made from tempered, stainless steel. Extremely sharp and keeps its edge.
The heavy knife sits nicely in your hand and transfers the cutting power optimally.
Sleekly stainless and matches any cutlery set.
Ideal for tarte flambées, as well. And as an alternative to a pizza cutter in the kitchen and at the table. Measures approximately 23cm (9.05″) long, each weighs about 112g (3.95 oz). Made by Gehring, the Solingen (Germany) knife factory.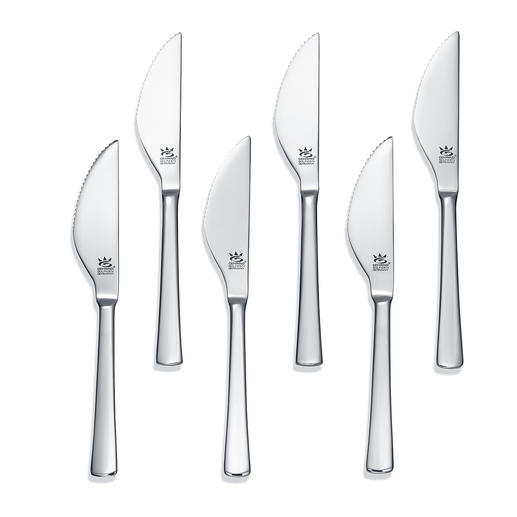 Be the first to review this product