From the Pro-Idee Special Shop
Cuisine
Real Laguiole knives. Hand made.
From the Pro-Idee Special Shop
Cuisine
Real Laguiole knives. Hand made.
Exclusive cheese cutlery from the land of cheese connoisseurs.
Cutlery of the highest quality produced in the small French village of Laguiole since the 18th century.
This set of cheese knives from SCIP is an excellent example of perfect craftsmanship. The shiny polished blade and elaborately engraved shaft are forged from one piece of premium high-grade steel – all the way up to the end of the handle.
Real Laguiole knives. Hand made.
The ivory coloured handles are carefully riveted to the shaft. This way, they remain fixed even after years of daily use. The artfully sculpted and engraved bee on the brass shaft offers a firm grip. In addition, with the cheese knife you can cut both crumbly and hard cheeses into thin slices.
Cheese knife and cheese fork 22 and 23cm (8.7" and 9") long. Handwash only.
The bee, the Laguiole icon, was Napoleon's personal symbol. Legend says that Napoleon gave a knife to every soldier of his victorious army. Each of the knives was decorated with a bee which symbolises efficiency, diligence and prosperity.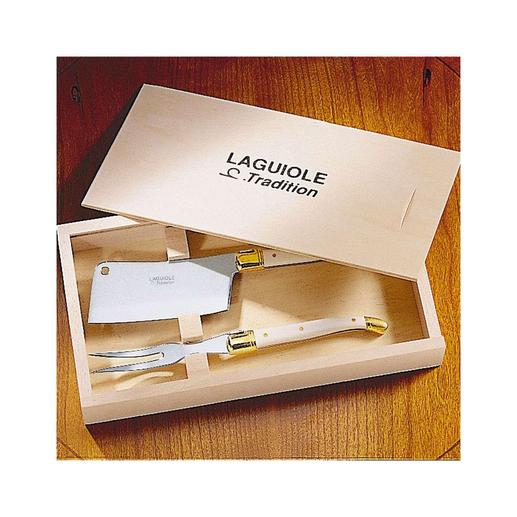 Be the first to review this product