06.04.2020 - We are still here for you. Standard delivery currently takes about about 5 to 7 working days. More
Buffalo Leather Bottle Bags
From the Pro-Idee Special Shop
Cuisine
The stylish way to carry drinks.
Stylish bottle holder made of sturdy buffalo leather. Handmade in Germany.
Forget about simple cardboard carriers and unsightly bottle bags. You can carry bottles of drink more stylishly (and safely) in these elegant leather bags: For a picnic, at the beach, for a party with friends etc. The smart and robust buffalo leather complements craft beers and soft drinks as well as exquisite wines and champagne. The characterful bags also make eye-catchers on a table, next to the fireplace, as a bottle holder in the kitchen, etc., and become even more beautiful over the years.
Extremely robust, stable and durable. Each bag is a unique handmade piece.
Made from hand-cut vegetable tanned buffalo leather and finished with natural hard wax. The combination of approximately 3.5mm (0.14") thick leather and double seams makes the bottle carrier extremely sturdy and resilient. Durable riveted dividers between the bottles provide stability. No clinking or breakages.
Also easy to carry on your shoulder thanks to the attachable strap.
Size "Alpensechser" (W x H x D): 21 x 24 x 15cm (8.3" x 9.4" x 5.9"), 625g (22 oz). For 6 0.5-litre bottles. Colour: Cognac. "Weintragerl": 19 x 26.5 x 17cm (7.5" x 10.4" x 6.7"), 641g (22.6 oz). For 4 0.7-litre bottles. Colour: Brown.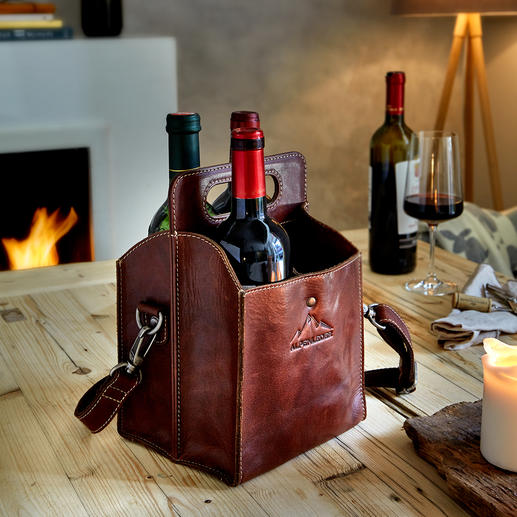 Be the first to review this product