From the Pro-Idee Special Shop
Cuisine
From the Pro-Idee Special Shop
Cuisine
Much better grip, safer (and more beautiful): The 38cm (14.96″) oven glove made of soft suede leather.
Protects hand and forearm from burns and splashes of oil. Matches your elegant kitchen.
You can forget conventional (often too short) oven gloves made of quilted fabric – and burn blisters on hands and arms. This 38cm (14.96″) long-shaft glove (instead of often only 27-30cm (10.6″- 11.8″)) made of fine suede leather protects your hand and a large part of your forearm from burns, on the hot oven, sizzling pans and casserole dishes, on the grill etc. The soft, 2,5mm (0.1″) thick cowhide leather provides optimum heat insulation. Unlike smooth fabric, the rough surface provides a non-slip, secure grip.
The generous stretch pleat ensures unrestricted gripping freedom even for tall and large dishes.
You can also hold grill tongs and other cooking tools firmly in your hand. For right and left handers. Lining: 100% cotton. Measures approximately 38 x 15cm (14.96″ x 5.9″) (L x W). Colour: Black lining and taupe leather on the outside. Clean with a damp cloth or suede brush.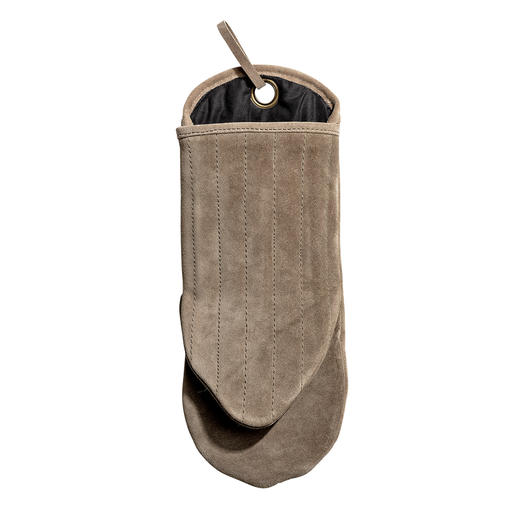 Be the first to review this product