Superior kitchen utensils: Each one a real all-rounder.
By Mason Cash, English traditional company for over 200 years.
Save yourself whole drawers full of kitchen utensils. Each of these all-rounders takes on the tasks of at least 2 or even 3 individual cooking and baking aids. This saves space, and you have the right specialist tool to hand for every task.
3-in-1 cooking spoon
with measuring scale and silicone spatula (34cm (13.4″) L): Scale for 1 tablespoon, 1 and ½ teaspoon; at the other end, a narrow silicone spatula for scraping glasses, filling small (baking) moulds, ...

Pastry brush & fork
(22cm (8.7″) L): Natural bristles; practical fork prongs for decorating, piercing, testing.
Slotted
kitchen slice & rack grabber
(33cm (13″) L): Strong enough for large portions of fried potatoes; specially shaped handle end for inserting and pulling out baking trays and tins from the oven.
Dough scraper & spatula
made of silicone (34.5cm (13.6″) L): Dough scraper also removable; the narrow spatula is particularly suitable for spreading icing and toppings.
Whisk & reamer
(28.5cm (11.2″) L): Wire balloon whisk made of stainless steel; notched handle end for squeezing halved citrus fruit.
Draining spoon & egg separator
(32cm (12.6″) L): Ideal for stirring, folding, straining. Grooves on the back hold the spoon firmly against the bowl rim. This allows egg whites to run directly into the mixing bowl when separating.
---
Handles made of untreated beech wood
Please wash by hand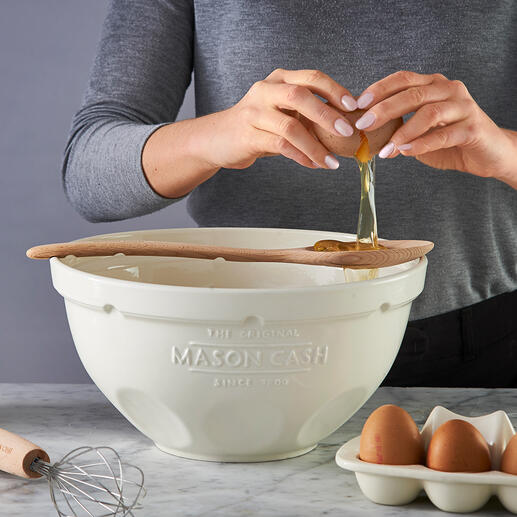 Be the first to review this product