Goodbye but not Farewell ...
As a result of the Brexit, Pro-Idee is temporarily closing its UK online shop (www.proidee.co.uk) until further notice. We apologise for the inconvenience. Everything you might want to know about the situation is to be found in the FAQs below. It will surely help you navigate through this change and answer the most frequent questions you might ask yourself regarding ordering, shipping, delivering and many other areas which are impacted by the closing of our online shop. As we remain committed to curating a unique selection of high quality products, we invite you to continue shopping in our German, French, Dutch, Austrian or Swiss online shop if you wish to have your order delivered to an address outside the UK. We thank you for the continuous support throughout the years and we hope to be able to reopen our UK online shop in the near future.
Superior kitchen utensils: Each one a real all-rounder.
By Mason Cash, English traditional company for over 200 years.
Save yourself whole drawers full of kitchen utensils. Each of these all-rounders takes on the tasks of at least 2 or even 3 individual cooking and baking aids. This saves space, and you have the right specialist tool to hand for every task.
3-in-1 cooking spoon
with measuring scale and silicone spatula (34cm (13.4″) L): Scale for 1 tablespoon, 1 and ½ teaspoon; at the other end, a narrow silicone spatula for scraping glasses, filling small (baking) moulds, ...

Pastry brush & fork
(22cm (8.7″) L): Natural bristles; practical fork prongs for decorating, piercing, testing.
Slotted
kitchen slice & rack grabber
(33cm (13″) L): Strong enough for large portions of fried potatoes; specially shaped handle end for inserting and pulling out baking trays and tins from the oven.
Dough scraper & spatula
made of silicone (34.5cm (13.6″) L): Dough scraper also removable; the narrow spatula is particularly suitable for spreading icing and toppings.
Whisk & reamer
(28.5cm (11.2″) L): Wire balloon whisk made of stainless steel; notched handle end for squeezing halved citrus fruit.
Draining spoon & egg separator
(32cm (12.6″) L): Ideal for stirring, folding, straining. Grooves on the back hold the spoon firmly against the bowl rim. This allows egg whites to run directly into the mixing bowl when separating.
---
Handles made of untreated beech wood
Please wash by hand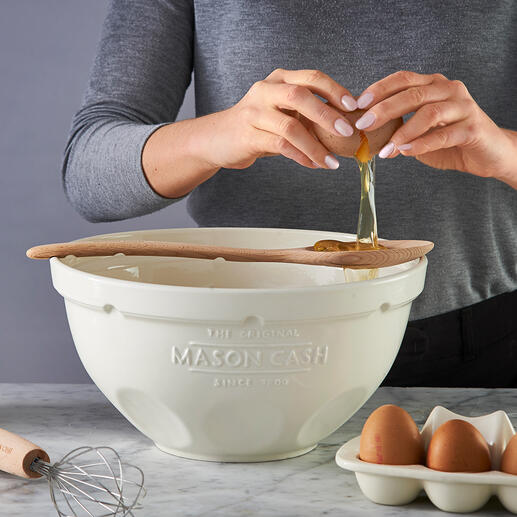 Be the first to review this product