06.07.2020 - You may experience longer delivery times due to the current circumstances and logistic difficulties that are out of our control. Further details are available on the webpage of each product. More
AutoDogMug™ Dog Water Bottle
Fresh and clean water for your dog anywhere.
AutoDogMug™ Dog Water Bottle
Fresh and clean water for your dog anywhere.
Fresh and clean water for your dog anywhere.
The original from the USA: The ingenious AutoDogMug™ is a water bottle and drinking bowl in one. Won't waste a drop of water.
On long car journeys or hikes, when playing in the park or even when you go for a short walk, the ingenious water bottle means you can now offer your dog fresh, clean water anywhere. And unlike conventional dog water bottles, no water is wasted. When your dog is finished drinking any water remaining in the bowl drains back into the water bottle. This way, you keep your dog hydrated while you're out and about. What's more, he won't quench his thirst by drinking from a puddle of water, which is full of bacteria.
Ingenious all-in-one design: Convenient for dogs and humans. Easy to take with you.
You don't have to pack a separate bowl. The lid of the bottle is also a generous drinking bowl. Squeeze the bottle to fill the dog water bowl. Release after drinking and the water drains back, while the valve seals the bottle preventing it from leaking. Easy to attach to the lead, backpack or belt with the secure strap included. Made of food safe, highly qualitative BPA-free plastic. Dishwasher safe. Size 10.8 x 21cm (4.3" x 8.3") (diameter x H), weight 108g (3.8 oz). Fill capacity 590ml.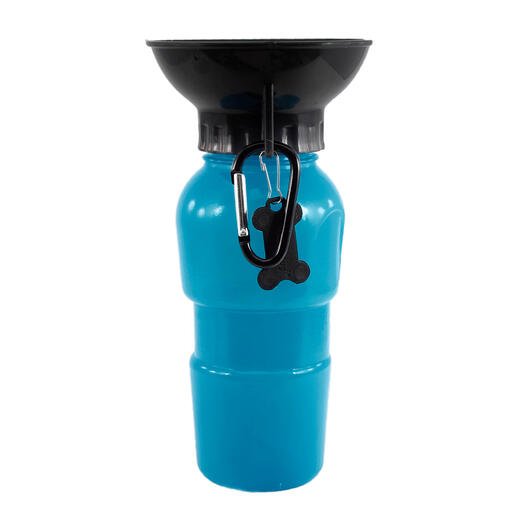 Be the first to review this product