Expandable Dish Drainer
The clever dish drainer never takes up unnecessary space.
From the Pro-Idee Special Shop
Cuisine
The clever dish drainer never takes up unnecessary space.
Space-saving and compact. When required, almost doubles in size in one go. Ideal for large dishes and bulky items.
No comparison to conventional bulky (often unsightly) draining racks. This designer dish drainer adapts flexibly to your needs. With a compact base (36.4 x 32 cm / 14.3" x 12.6") (W x D) for small dishes and a pull-out section that comfortably extends the drainer (36.4 x 52.7cm / 14.3" x 20.7") (W x D) for extra dishes and larger items.
Can be situated in a variety of ways thanks to the 3-way adjustable waterspout.
Right, left or front: In one go, you can align the waterspout to the desired position to guide the water run-off directly into the sink.
Also holds large plates, chopping boards, pots, ... firmly upright.
Solid steel tines ensure a firm stand. The plastic-coated tips and sealed edges of the drip tray offer better protection for delicate items from scratches and breakages. An integrated rail with support bracket keeps cutting boards, for example, from tipping over or slipping. Movable cutlery drainer with knife slot.
Available in elegant stainless steel look or in one coloured anthracite.
Made of robust basalt black plastic. Size (W x H x D): 36.4 x 16.1 x 32cm (14.3" x 6.3" x 12.6"), extended 36.4 x 16.1 x 52.7cm (14.3" x 6.3" x 20.7"). Weighs 1,824g (4 lbs). By Joseph Joseph, London.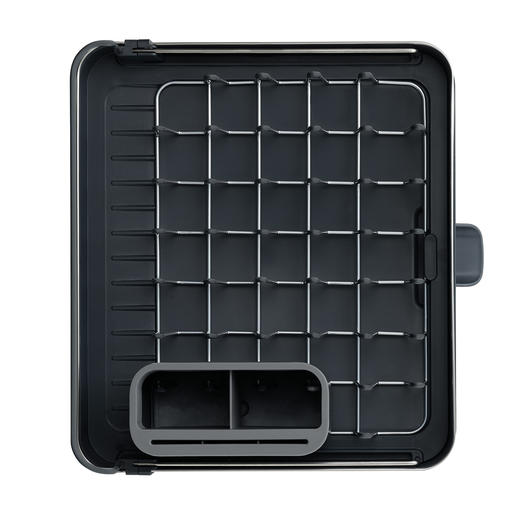 Be the first to review this product