05.04.2020 - We are still here for you. Standard delivery currently takes about about 5 to 7 working days. Mohr
Clothing Transport Aid travel buddy®
Clothing Transport Aid travel buddy®
Great carrier and transport hanger for up to 9 clothes hangers.
Ideal for the route home from the dry cleaner, on business and holiday trips.
It doesn't get more comfortable: With this practical carrier you can grab up to 9 clothes hangars at once - easily with just one hand. If needed, hook it on the handle in the car or RV: Travel with your shirts, blouses, suits, dresses hanging, ... wrinkle-free. travel buddy® is a space-saving helper in the often sparse hanging options in a hotel or holiday apartment.
The notches provide a good hold.
None of the hangers fall, no clothing gets dirty. Nothing is squashed thanks to the even spacing.
High quality made in Germany.
Made of robust ABS plastic. Carries up to 5kg (11 lbs). Measures 11 x 11.5 x 6cm (4.3″ x 4.5″ x 2.2″ (W x H x D)). Weighs 55kg (1.9 oz).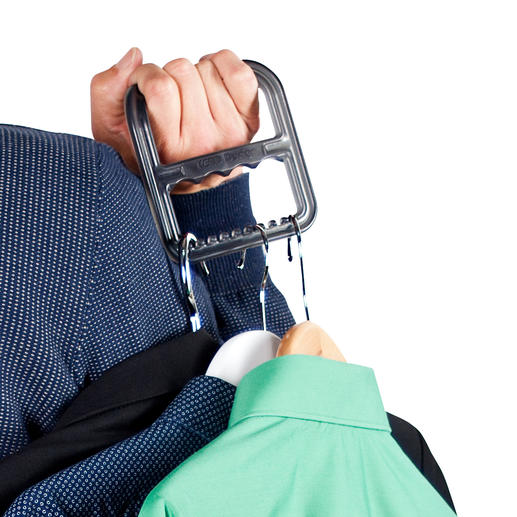 Be the first to review this product