"Intelligent Waste" Waste Separation System
A complete waste separation system in one space-saving container.
A complete waste separation system in one space-saving container.
Elegant, clean design. Well thought-out layout. By Joseph Joseph, London.
No more different bins, baskets, boxes, liners, ... This slim tower is an intelligent waste separation system. Thanks to the timeless stainless steel design, it blends in with every kitchen interior decor.
60-litre capacity and only 39 x 37cm (15.4" x 14.6") – in 2, 3 or 4 compartments.
Simply open the lid at the touch of a fingertip – and conveniently access the 30-litre residual waste compartment. The removable 3-litre corner caddy is ideal for composting waste such as fruit and vegetable peelings, coffee filters, ...
30-litre drawer – if desired, it can be changed into 2 x 15-litre compartments.
Packaging and recyclables, paper and cardboard – everything is perfectly pre-sorted. At a height of 40cm (15.7"), the drawer is also perfect for collecting bottles. Or for storing bin liners, cleaning agents, ...
The activated carbon filter in the lid neutralises odours.
Fingerprints don't show on the plastic surface of the lid. 4 built-in wheels in the base facilitate moving the lower free-standing box. For cleaning, simply rinse and dry – that's all. Wash the removable carbon filter briefly by hand (replacement recommended every 3 months, replacement filter available separately). Size (W x D x H): Approx. 39 x 37 x 81cm (15.4"" x 14.6" x 31.9"). Weight approx. 10kg (22 lbs).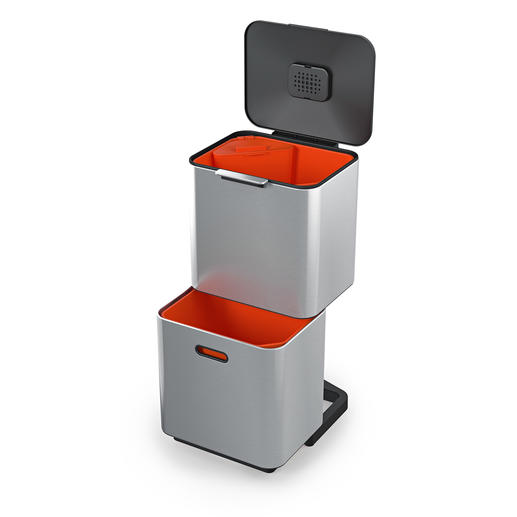 Be the first to review this product