Your keys are perfectly secured.
Your keys are perfectly secured.
Easily remove and replace your keys.
At the touch of a button – the right keys are always at hand.
Troika collects design awards: The German company has already won 58 coveted prizes in recent years, including IF, reddot, Good Design Award, Design Plus and more. Since 1972, Troika has been developing high-quality original products like this smart Key Organiser.
Your keys are perfectly secured.
No comparison with cheaper versions – this quality product is made from solid brass with a top-quality chrome finish.
No sharp edges to ruin your pocket linings. The carefully crafted opening mechanism functions reliably and keeps your keys safe for years. No fiddly threading on and off a split ring. The right key is to hand at a single touch – effortless, without broken fingernails. Five coloured tags help you to find the right one quickly. If you wish, you can use a small but strong detachable carabiner clip to fasten your bunch of keys to a belt loop or inside your bag. Measures approx. 10cm (4") in length. Weighs approx. 52g (2oz).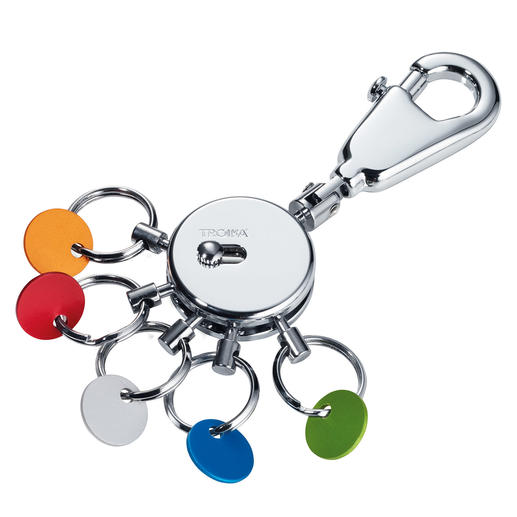 Be the first to review this product