Trendy XL weave. Comfortable cushioned stool. Extraordinary design.
Pouf made of finger-thick cotton yarn – finished by hand in basket weave pattern.
In lifestyle magazines, super-thick yarns are a hot trend topic, both in knitwear fashion and home accessories. Now, the chunky weave also comes as a pouf: One of the best, essential versatile pieces of furniture.
32 jersey threads create an artful woven look.
First, the long (up to 1.90m (6.2ft)) cotton tubes are filled with polyester fibres. They are stuffed firmly and evenly to give a 30mm (1.2") diameter, but remain wonderfully soft. Two strands are then combined by hand into an artful basket weave pattern, which encloses the rounded, firm cushion core, maintaining its shape.
Trendy design and luxurious comfort ensure a relaxed lifestyle.
Take a seat on the striking lattice work: You sit comfortably soft while receiving firm support without sinking in – and at a comfortable seat height of 40cm (15.7"). The pouf is also ideal for large groups, when you quickly need another comfortable seat. Also perfect for putting your feet up or using it as a place for your tray.
Manufactured in selected workshops in Europe.
A durable, quality piece of furniture – far from any mass production. Size 59cm (23.2") diameter, 40cm (15.7") H. Weight approx. 6.5kg (14.3 lb). Jersey cover: 100% cotton. Filling: 100% polyester. Cushion: 40% viscose, 30% polyurethane foam, 30% polystyrene balls. Easy to clean with a damp cloth.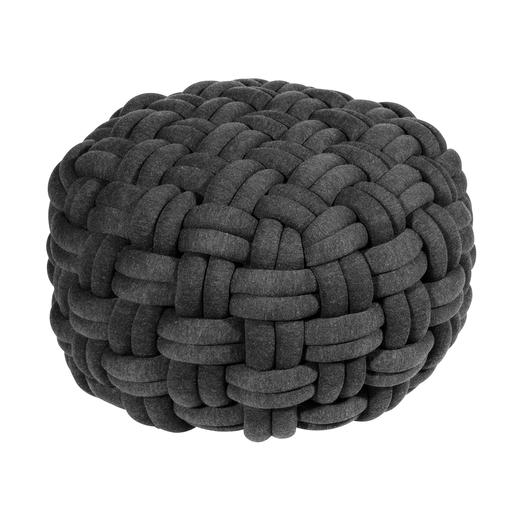 Be the first to review this product