06.04.2020 - We are still here for you. Standard delivery currently takes about about 5 to 7 working days. More
100% natural, 0% care: Evergreen moss pictograms as original signposts.
Perfect for sports clubs, practices or offices. A decorative object at home. And it makes a great gift.
Fixed to a door, these extraordinary moss characters show the way to the toilet, shower or changing room. Also ideal as decoration on sideboards, shelves, windowsills – and as an engagement or wedding gift, or for silver or gold wedding anniversaries.
Permanently beautiful in appearance and feel thanks to a special preserving technique. Without the need for water or natural light.
Naturally grown, rich green Icelandic moss is carefully preserved using a natural process. The fine, typical array of colours, the puffed up, delicate growth form and the pleasantly soft touch are all preserved – unchanged by time.
Carefully handmade.
The tufts of puffy Icelandic moss are glued tightly together by hand onto black cork. Each piece measures 10 x 25 x 3.5cm (3.9" x 9.8" x 1.4"; W x H x D). Weight: Approx. 250g (8.8 oz).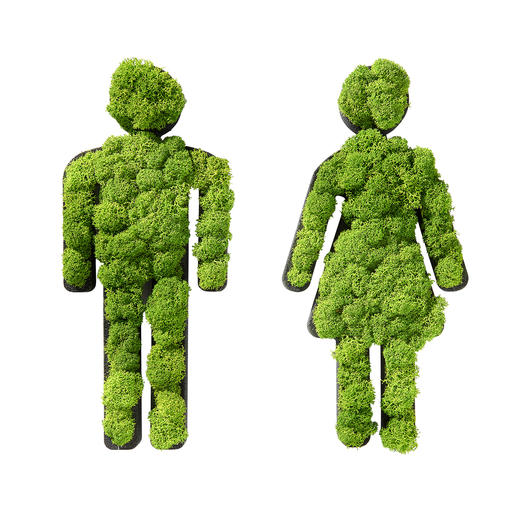 Be the first to review this product